Cobra Kai Season 4 - The Loop
Play Sound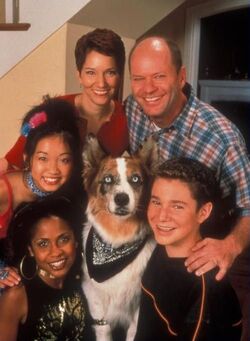 100 Deeds for Eddie McDowd was an American family comedy series, created by Steven H. Berman, Mitchel Katlin, and Nat Bernstein. The series ran from October 16, 1999 to April 21, 2002, on Nickelodeon.
Plot
Schoolyard bully, Eddie McDowd, is punished by a man called The Drifter because of his behavior. He finds himself very attractive and powerful and so he bullies others without mercy. The Drifter plans to make him pay for his wrongdoings and turns him into an Australian Shepherd/Siberian Husky mix, informing him that he has to do 100 good deeds before he can be changed back. Besides The Drifter, the only one who can hear him talk is Justin Taylor, who was the last kid he bullied. Now he must work alongside Justin and his family to finish his good deeds and become human once again. It is explained by The Drifter in a later episode that this should happen, neither Justin nor Eddie will outright remember their experiences (though Eddie will still be a better person for it).
Main cast
Recurring cast
Critical response
The show was cancelled in the United States due to declining ratings in the spring of 2002 after only 40 episodes, with Eddie still a dog and sixty deeds left to do. However, the show was such a hit in Europe that it was released on Amazon.fr.
References
External links