The topic of this page has a wiki of its own: Munkapedia.
ALVINNN!!! and the Chipmunks
Genre:
Animation
Created by:
Janice Karman
Country of origin:
US & France
Running time:
11 minutes
Original release:
March 30, 2015 - present
IMDb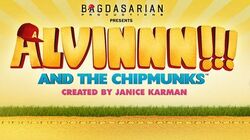 ALVINNN!!! and the Chipmunks is a French-American CGI animated series that premiered on M6 (France) on March 30, 2015 (Nickelodeon US on August 3, 2015). This series is the fourth incarnation of the Alvin and the Chipmunks characters. And also shown on Nickelodeon during Nick Jr. in Australia since 2015.
Plot
The new animated series, ALVINNN!!! and The Chipmunks, created by Janice Karman, takes us on a roller coaster ride of music, laughter and stories geared to entertain The Chipmunks' four generations of fans. Presented for the first time in glorious CGI, the series features ground-breaking animation and a new, original Chipmunk song in every episode. The series is an animated version of a prime-time sitcom and reflects the trials and tribulations of a single parent, David Seville, trying to raise six hyper-active Chipmunks. Like most parents, Dave's patience will be pushed to the limit, forcing him to end most sentences in "ALVINNN!!!"
Trivia
Unlike the previous shows, the chipmunks are about a foot tall, which is a few inches taller than in the CGI/live action films.