The topic of this page has a wiki of its own: Munkapedia.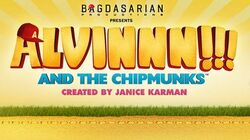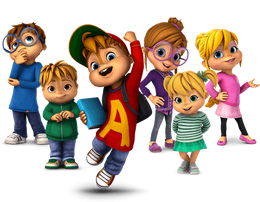 ALVINNN!!! and the Chipmunks is a French-American CGI animated series produced by Technicolor Animation in France and Bagdasarian Productions in the US. It premiered on M6 (France) on March 30, 2015. This series is the fourth incarnation of the Alvin and the Chipmunks characters. Nickelodeon acquired the rights to the first two seasons in 2014,[1] and first aired the show in the US on August 3, 2015.
Plot
The series was created by Janice Karman, takes us on a roller coaster ride of music, laughter and stories geared to entertain The Chipmunks' four generations of fans. Presented for the first time in glorious CGI, the series features ground-breaking animation and a new, original Chipmunk song in every episode. The series is an animated version of a prime-time sitcom and reflects the trials and tribulations of a single parent, David Seville, trying to raise six hyper-active Chipmunks. Like most parents, Dave's patience will be pushed to the limit, forcing him to end most sentences in "ALVINNN!!!"
Episodes
→ Main article:

ALVINNN!!! and the Chipmunks episode list
Trivia
According to C.H. Greenblatt in this Tumblr post, Nickelodeon's then-president Cyma Zarghami did not like the show, but bragged about acquiring the episodes for a cheap price.
The show's theme song, "We're the Chipmunks", is the same one from the 1980s Alvin and the Chipmunks cartoon, which Nickelodeon had aired reruns of from 1995 to 1997.
Unlike the previous shows, the chipmunks are about a foot tall, which is a few inches taller than in the CGI/live action films.
References
External links
"Gee, this is harder than I thought."
This article doesn't contain enough information. If you know anything about ALVINNN!!! and the Chipmunks,