A Fairly Odd Summer
Directed by:
Savage Steve Holland
Produced by:
Butch Hartman (executive)
Scott McAboy (executive)
Amy Sydorick
Written by:
Butch Hartman
Release date:
August 2, 2014
Running time:
1 hour, 8 minutes
Film rating:
Preceded by:
A Fairly Odd Christmas
IMDb profile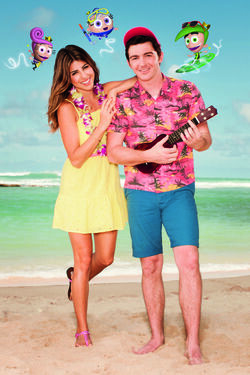 A Fairly Odd Summer is the third live-action film based on The Fairly OddParents.
Synopsis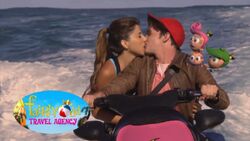 Get ready for the oddest summer yet! Timmy Turner and his fairies are going on a summer vacation to Hawaii. But, unfortunately for Timmy, something tells us this won't be a very relaxing holiday. With all the magic in Fairy World at stake and villains like Vicky, Foop and Crocker on his tail, there's no way he'll be able to enjoy himself... But that doesn't mean you can't! Sit back and watch Timmy's cray cray vacay adventure in A Fairly Odd Summer!
Cast
References
External links
The Fairly OddParents

Characters

Major characters
Timmy • Cosmo • Wanda • Poof • Sparky • Mr. and Mrs. Turner • Vicky • Mr. Crocker • Jorgen • Tootie • Chester • A.J.
Humans
Elmer • Sanjay • Trixie • Veronica • Tad and Chad • Francis • Chip • Remy • Doug Dimmadome • Catman • The Mayor • Chet Ubetcha • Principal Waxelplax • Mr. Bickles • Dinkleberg
Fairies
Mama Cosma • Big Daddy • Blonda • Juandissimo • Binky • Cupid • The Tooth Fairy • The April Fool •
Villains
Anti-Cosmo • Anti-Wanda • Foop • The Pixies • Dark Laser • Norm the Genie • Shallowgrave • Mandie • Magnate • Anti-Sparky
Others
Crimson Chin • Crash Nebula • Mark Chang • Chompy the Goat • Doidle
Cast and crew
Butch Hartman • Mary Kay Bergman • Tara Strong • Daran Norris • Susanne Blakeslee • Grey DeLisle • Carlos Alazraqui • Frankie Muniz • Jason Marsden • Ibrahim Haneef Muhammad • Gary Leroi Gray • Dionne Quan • Dee Bradley Baker • Jim Ward • Jay Leno
Productions
Episodes • Seasons: 1, 2, 3, 4, 5, 6, 7, 8, 9, 10 • A Fairly Odd Movie: Grow Up, Timmy Turner! • A Fairly Odd Christmas • A Fairly Odd Summer • The Fairly Odd Phantom • Video releases
Video games
Enter the Cleft! • Breakin' Da Rules • Shadow Showdown • Clash with the Anti-World
See also
Danny Phantom • T.U.F.F. Puppy • Bunsen is a Beast