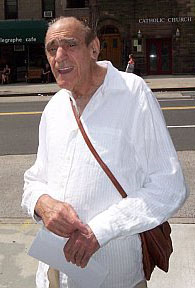 Abraham "Abe" Vigoda (February 24, 1921 - January 26, 2016) was an American movie and television actor. Vigoda was well known for his portrayal of Sal Tessio in The Godfather, and for his portrayal of Detective Sgt. Phil Fish on the sitcom television series Barney Miller from 1975–1977 and on its spin-off show Fish that aired from February 1977 to June 1978 on ABC. Vigoda was still also appearing on Barney Miller at the same time as he was on Fish during the 1976–1977 TV season; at the start of the 1977–1978 season, his character retired from the police force and left Barney Miller to focus full-time on the spinoff.
Vigoda appeared as Otis, a Good Burger employee, in the 1997 Nickelodeon Movie Good Burger.
Community content is available under
CC-BY-SA
unless otherwise noted.