Jurassic World: Dominion Dominates Fandom Wikis - The Loop
Play Sound
All That


season navigation
Original Era
1 • 2 • 3 • 4 • 5 • 6
Relaunch Era
7 • 8 • 9 • 10
Revival Era
11
All That's fourth season ran from November 15, 1997 to April 4, 1998. This season had the most episodes, at 21 episodes aired.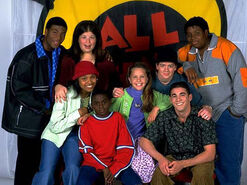 The show saw many changes before the start of the season. Original/former cast members Katrina Johnson and Alisa Reyes both had left the show. New cast member Tricia Dickson was let go from the show before the start of this season to make way for the new cast members. Dickson and Reyes, however, would make an appearance together in an unused Good Burger sketch from season 3.
The producers decided to hire three new cast members to make up for the three that had left. In a bit of stunt casting, they hired Danny Tamberelli. Tamberelli was a Nickelodeon veteran, he already had his own show on the network and had made numerous guest appearances on other shows on Nickelodeon. The producers also brought on Christy Knowings and Leon Frierson. The three would provide new life to the show. Midway through the season Victor-Cohn Lopez and Zach Mclemore were hired. Like Dickson they were added as featured players and did not have any major screen time. This was also the first season recorded at Nickelodeon On Sunset in Hollywood, California.
This would be the first season for Danny Tamberelli, Christy Knowings and Leon Frierson, and the only season for Victor-Cohn Lopez and Zach McLemore.
This would also be the final season for original cast member Lori Beth Denberg on the show. In a live chat on Nick.com, she reasoned that she left All That, because she "was getting older."[1] Denberg was the last original female cast member on the show before her departure.
Like Dickson, Lopez and Mclemore were let go from the show to make way for more new cast members for the following season.
This is the first season to have more male cast members then female and will remain as such until Season 9.
The intro for this season is different than the first three. This intro features the cast on a red carpet premiere in old Hollywood. The cast exit separately out of a limo and walk down the carpet, where they are greeted by fans who are throwing roses and taking pictures. The cast are wearing nice clothing, compared to the first three seasons. In this season Thompson is the one holding the "Oh" sign. The announcer starts off by saying "Fresh out the box, stop look and watch, ready yet? Get set, It's All That!" However, like the first three seasons, their names are in bright red front and are separated by the All That logo. After Thompson the musical guest is shown followed by the entire cast standing on the stairs as people take their pictures.
This season was filmed from August 1997 to March 1998.
Cast
Repertory Players
Featured Players
Victor-Cohn Lopez (first episode: January 17, 1998)

Zach McLemore

(first episode: December 6, 1997)
bold denotes Vital Information anchor only
Episodes
Season #
Series #
Title
Original Air-Date
Code
1
59
"

Mase

"
November 15, 1997
401
*Green Room-New Cast Members: While the remaining cast members are reading new fan mail they get a letter from Danny Tamberelli explaining how much he loves the show and dreams of joining the cast. So, the cast travels all the way to his house and decides to let him join the show, and while there, they meet his friend, Christy and invite her to join too. When they get back to the studio, they meet young Leon in the audience, and generously allow him to join the cast!

*The Tooth Fairy (Kenan) tries to get a tooth from a little boy (Leon)

*Vital Information

*Bacteria's Auditions: Rash (previously played by Alisa Reyes) quit the band so the guys need a new bass player.

*Ask Ashley

*Bacteria intro Mase

*'Musical Guest: Mase "Feel So Good"

(First episode to feature Leon Frierson, Christy Knowings, and Danny Tamberelli)

"*"This episode will air on TeenNick's The '90s Are All That on January 3, 2012.

2
60
"Busta Rhymes"
November 22, 1997
402
*Green Room-Kenan's Teeth: Kenan can't find his toothbrush and won't start the show until his teeth are clean.

*Repairman: Repairs the Girls' Bathroom.

*Vital Information

*What Do You Do?: The Game show where panelists must guess what the contestant's weird hobby is. The host Is Winter Wonders (Christy). The panelists are Principal Pimpell, Miss Fingerly, Coach Kreeton, and Kevin (who isn't wearing any pants) where they have to guess the hobbies of two different contestants (Amanda and Leon).

*Jack Campbell: Fat Cop comes to the rescue when a pair of kids' stuff is stolen. But can he stop asking questions about their lunches and eating all the food in their fridge long enough to find the crooks? Of course not!

*Antoine Intro Musical Guest: Busta Rhymes "Dangerous"

3
61
"Tommy Davidson/

Robyn

"
November 29, 1997
403
*Green Room-Josh in Sleep Mode: Josh is fast asleep! The kids try many ways to wake him up. Throwing water on him, hitting him over the head with various blunt objects, but nothing works...then they realize he wasn't plugged in!

*'Cooking with Randy & Grandy: Randy's Grandfather visits him on his show and forbids Randy from ever eating chocolate again. Special Guest: Tommy Davidson

*Vital Information

*Have a Nice Day: Leroy & Fuzz on Homework

*Everyday French with Pierre Escargot

*We Got Pants: A new clothing store is the hottest place to visit. Its name says that it has pants-and it does. Unfortunately for all of the customers, it only has one pair!

*Coach Kreeton intro Musical Guest: Robyn "Show Me Love"

"This episode will air on Nickelodeon again on June 25, 2012 with an episode of Kenan & Kel

4
62
"

Wyclef Jean

"
December 6, 1997
404
*Green Room-Cast in the Cage: The cast members are "trapped" in a giant cage, thanks to the new studio security guard who doesn't believe them when they tell him they're the stars of the show<

*Good Burger Mismanagement: When Mr. Bailey (the manager of Good Burger) needs to get a haircut, he chooses Ed (Kel) to be the replacement manager since he has worked at the restaurant longest. While there, he annoys customers, including one little girl (Amanda). She decides to get her father to handle the problem. He turns out to be a large, scary biker! Thankfully, the Mr. Bailey comes back just as the biker asks where the manager is. Ed points out the real one, who suffers a painful beating! Featuring: Former Cast Members Alisa Reyes and Tricia Dickson

*Vital Information

*Have a Nice Day w/ Leroy & Fuzz: Leroy talks about why vegetables irritates him.

*C. J. & the Cloudy Knights must get prepared for their performance (featuring Zachary McLemore)

*Cloudy Knights introduce Musical Guest: Wyclef Jean "Staying Alive", "Gone Till November - Remix"

(First Episode to Feature Zachary McLemore)

Absent: Danny Tamberelli

5
63
"

Dru Hill

"
December 13, 1997
405
*Green Room-The Voice Switch: Lori Beth and Kenan's voice gets switched! Luckily, Josh thinks of a way to get their own voices back and it's painful.

*Miss Piddlin: The people that were supposed to cater the parents of a little girl (Amanda) canceled when the family of her father's boss comes in. so she gets her lunch lady, Miss Piddlin to cater her peas.

*Vital Information

*Ask Ashley

*Miss Fingerly Meets Simon the Sleepwalker: It's time for Miss Fingerly's class, but Simon (Kel) is still sleeping! She tries to ignore him, but he goes about his morning routine, which includes eating breakfast on a student (Christy) and firing arrows into his teacher's stomach.

*Ashley reads note from Musical Guest: Dru Hill "5 Steps"

6
64
"Mary J. Blige"
December 20, 1997
406
*Green Room-The Staring Contest: Amanda beats Leon and Kel in a staring contest. When she goes against The Big Ear of Corn, she thinks she's met her match....until she pops him!

*Cooking w/ Randy & Campbell: When Randy's fork is stolen, Jack Campbell, Fat Cop arrives to "help". He takes advantage of all of Randy's chocolaty dishes.

*Vital Information

*What-Everrr: Gina (Amanda) and Jessica (Christy) give Miss Fingerly a makeover.

*Toby Braun advertises The Board

*Pierre Escargot Introduces Musical Guest: Mary J. Blige "Everything"

7
65
"Immature"
December 27, 1997
407
*Green Room-The Meteor: A meteor is headed straight for the Green Room, and the Cast is scared for their lives! The meteor ends up landing on Kevin.

*Coach Kreeton is a Substitute and has to deal with a Coach Kreeton voo-doo doll brought in by a student (Leon).

*Vital Information

*Tater & Family: Tater & Family Get Cable installed. Lump Maroon appears as a cousin of the Tater Family.

*Everyday French w/ Pierre Escargot

*Ask Ashley has a one of her letter-writers (Danny) actually arrive in her bedroom to deliver his letter, asking her advice on how to get a letter to her easier.

*Pierre Introduces Musical Guest: Immature "Give Up The Ghost"

8
66
"Spice Girls"
January 3, 1998
408
*Green Room-Magic Tricks: Amanda shows off some unique magic tricks. Such as turning Kel's $100 bill into an artichoke, making Lori Beth bald, and turning Kevin into a monkey.

*Good Burger: Good Shrimp

*Vital Information

*'Jimmy Bond Agent 1/7 meets Hot Toe (Christy) a villain with a molten big toe. Coldfinger returns where he collaborates with Hot Toe.

*Ask Who?: The Cast can't find Amanda when it times for "Ask Ashley" and discover she's sitting in the audience watching the show, or is she?

*Show & Tell: Kel brings in The Spice Girls to show and tell.

*'Miss Fingerly's Class intro Musical Guest: Spice Girls "Spice Up Your Life"

9
67
"

Kirk Franklin

&

God's Property

"
January 10, 1998
409
*Green Room: Danny's got a sore throat. But don't worry-it's Amanda to the rescue! She pulls out his heart and lungs with her bare hands as she searches for his tonsils.

*Mavis & Clavis: The old codgers attend their 100th Year Class Reunion and reminisce about a time in their senior year when they fought over a girl (Christy) and do the same thing 100 years later at the reunion! Miss Fingerly, and Bernie Kibbitz also attend

*Vital Information

*What-Everrr: Gina & Jessica introduce a new segment on the show; Loser of the Week

*Detective Dan at the Station: The sketch shows how Detective Dan operates at the police station.

*CJ of the Cloudy Knights intro Musical Guest: Kirk Franklin & God's Property "Stomp"

10
68
"Backstreet Boys"
January 17, 1998
410
*Green Room-Christy's Outta Juice: Christy starts falling asleep at extremely inconvenient times so the others have to recharge her.

*USS Spaceship: Space Cadets vs. Crouton

*Vital Information

*I Luv Lucy: In an I Love Lucy parody, Amanda is Lucy, Victor Cohn-Lopez is Ricky, Kenan is Fred, and Lori Beth is Ethel. In this episode, Lucy buys a new hat, but Ricky says they cannot afford it-so Lucy sticks a trophy on her head instead. While she and Ethel go to get it off, Ricky and Fred intercept a phone call from "Big Hollywood Movie Producer", who wants to make a movie with Ricky! The men go off to prepare and the producer comes in, making himself comfortable. Unfortunately, Lucy and Ethel think he's a burglar, and attack him with fists of fury and kitchen utensils.

*Pierre Escargot

*Have a Nice Day with Leroy & Fuzz: Leroy talks about why taking baths irritates him.

*Peter & Flem

*Detective Dan and Lump Maroon introduce the Musical Guest: Backstreet Boys "As Long as You Love Me"

(First Episode to Feature Victor Cohn-Lopez)

11
69
"Usher"
January 24, 1998
411
*Green Room-Fishin' For Pork: The cast go fishing for some pork.

*Coach Kreeton has to babysit his grandson (Leon) after the babysitter of his grandson cancels at the last minute.

*Vital Information

*Lester Oaks meets Dr. Bynes (the worst Dentist in the World)

*Bully Academy: Two adult bullies (Danny And Lori Beth) send their sweet & perky little daughter (Amanda) to Bully School.

*Loud Librarian Introduces Musical Guest: Usher "You Make Me Wanna"

12
70
"Missy Elliott"
January 31, 1998
412
*Green Room-The Stuck Treadmill: Josh is trapped on the treadmill. The kids save him by throwing Kevin onto it.

*The Wild West Adventures of Superdude: Superdude vs. Cow Boy (Kel)

*Vital Information

*Ask Ashley

*Pierre Escargot

*Show & Tell: A Monster-ous presentation occurs when a student (Danny) brings in a monster that he found under his bed which attacks the class.

*Good Burger Introduces Musical Guest: Missy Elliott "The Rain (Supa Dupa Fly)"

13
71
"Boyz II Men"
February 7, 1998
413
*Green Room-Danny's Foot Odor: Danny's foot odor is so bad, anyone who gets near him passes out.

*Good Burger: After drinking a giant Good Soda, Ed's gotta go...if you know what I mean.

*Vital Information

*Extremely Loud Librarian: Ms. Hushbaum is being as noisy as ever, all the while demanding that students remain completely silent in the library. Finally, one student can no longer take it, and calls her out. The two engage in a loud rock guitar battle to settle the problem.

*What Do You Do?: The panelists to guess the talent of Megan Marples (Amanda) are Connie Muldoon, Detective Dan, Lump Maroon, and Lester Oaks: Construction Worker.

*Ms. Fingerly and Her Class (accuatly Kenan & Kel) Introduce Musical Guest: Boyz II Men "Can't Let Her Go"

14
72
"Destiny's Child"
February 14, 1998
414
*Green Room- Dart Throwing: Lori Beth, Leon, Christy, and Josh have a dart-throwing contest.

*Miss Piddlin & Competition: A new lunch lady named Miss Tula (Christy) comes to Miss Piddlin's lunchroom. Miss Tula believes in giving children carrots. Soon, Miss Piddlin and Miss Tula start competing to give the kids their favorite vegetables, and begin beating each other up.

*Vital Information

*Principal Pimpell is taking a week off to get his pimple surgically removed so he has to choose a temporary Principal substitute for Dullmont and his choices are Coach Kreeton, Miss Fingerly, Miss Spork, Mr. Trevell, and Janitor Gaseous

*Loud Librarian

*Peter & Flem Introduce Musical Guest: Destiny's Child "No, No, No" Part 1

"*"This episode will air on TeenNick's The 90's Are All That on June 12, 2012.Template:Update after

15
73
"

LL Cool J

"
October 17, 1998
415
*Green Room-Everyone's Kevin: Danny has a nightmare that everyone looks and acts like Kevin!

*Repairman and Repairboy (Leon)

*Complaint Department

*Pierre Escargot

*Miss Fingerly vs. Class Prankster

*Vital Introduction Musical Guest: LL Cool J "Father"

16
74
"

Jermaine Dupri

/Da Brat"
October 24, 1998
416
*Green Room-Habla Espanol: For some reason, everyone is speaking Spanish!

*Miss Pidlin on Halloween: Miss Piddlin only serves peas to trick-or-treaters and a trick-or-treater (Amanda) is dressed as a pea!

*Vital Information

*Mavis & Clavis: A woman (Lori) is stranded in a lifeboat with Mavis and Clavis as the two old men see this as a problem where they are going to miss The Rosie O'Donnell Show.

*Ask Ashley

*Acting Coach

*What-Everrr Intro Musical Guests: Jermaine Dupri and Da Brat "The Party Continues"

17
75
"

Salt-N-Pepa

"
October 31, 1998
417
*Green Room-The Spaceship: Amanda & Leon build a spaceship to go to Jupiter. The older kids laugh at them...until it works!

*Coach Kreeton in Home Eccch!: Kreeton is substitute for Home Ec.

*Vital Information

*Dusty Pants and Nasty Nancy: Dusty Pants and Nasty Nancy's latest feud is interrupted by the Slappy Brothers (Kel and Leon).

*Ask Ashley

*Miss Piddlin Introduces Musical Guest: Salt-N-Pepa "R U Ready"

18
76
"

K-Ci & JoJo

"
November 7, 1998
418
*Green Room-Robo Danny: The Cast build a Robo-Danny to replace the real one and he can do everyone's sketches better than them.

*What-Everr: The girls have a Hanson Look-alike contest; they meet Lump Maroon and Lester Oaks, Construction Worker.

*Vital Information

*Coach Kreeton's Birthday: Principal Pimpell, Miss Fingerly, Ms. Spork, Mr. Trevell, and Janitor Gaseous throw Coach Kreeton a painful surprise party.

*Peter and Flem

*Have a Nice Day with Leroy & Fuzz: Leroy talks about how babysitters irritate him until his latest babysitter is a cute-looking girl

*Musical guest: K-Ci & JoJo "All My Life"

Note: In reruns, this episode's musical performance was replaced with an extra "Vital Information" sketch, although K-Ci & JoJo remain in the opening credits.

19
77
"Kobe Bryant/

Ice Cube

"
November 14, 1998
419
*Green Room-Where's Amanda?: The kids search high and low for Amanda. Eventually, they find her in Josh's mouth.

*USS Spaceship: The crew faces off against Velcro

*Vital Information

*What-Everrr: Gina and Jessica meet Special Guest: Kobe Bryant

*Everyday French with Pierre Escargot

*Have a Nice Day with Leroy & Fuzz: Leroy talks about how bedtime irritates him.

*Peter & Flem

*Principal Pimpell Introduces Musical Guest: Ice Cube "We Be Clubbin'"

20
78
"

The Lox

"
November 21, 1998
420
*Green Room-Bullies: Some bullies show up in the Green Room and terrorize the Big Ear Of Corn. It's up to Amanda and Lori Beth to stop them.

*Detective Dan: Detective Dan crashes Principal Pimpell's class

*Vital Information

*Cheese Police: Officer Colby appears in Miss Fingerly's class to talk about the horrors of cheese

*Pierre Escargot

*Toby Braun advertises The Brute

*Vital Introduction Musical Guest: The Lox "If You Think I'm Jiggy"

21
79
"Sugar Ray"
November 28, 1998
421
*Green Room-The Scarecrow: A very odd scarecrow is in the Green Room to protect the Big Ear Of Corn. Amanda, Josh, and Danny tell Lori Beth that there are no crows in the Green Room so she blows it up. Then, Kenan reveals the scarecrow was supposed to protect the Big Ear of Corn from Elvis and professional wrestlers.

*I Luv Repairman: Repairman comes to Repair during "I Luv Lucy"

*Vital Information

*Misfortune Teller: A phony fortune teller (Christy) meets some clients (Josh, Kenan And Amanda) and offers them some fake predictions to scam them.

*Miss Fingerly's Birthday: It's Miss Fingerly's birthday! The students prepare to celebrate...but one boy without a head (Danny) scares everyone away!

*Ms. Fingerly Knows Best: Miss Fingerly's students act out of control in her classroom. She tries to scare them with old wives' tales, but they do not listen...until all of her threats start coming true! It soon comes to Miss Fingerly committing a show-exclusive old wives' tale in which if you kiss a stuffed monkey, you'll end up attacked by Elvis and professional wrestlers.

*Vital Introduction Musical Guest: Sugar Ray "Fly"

(Last Episode to Feature Lori Beth Denberg and her in the season 4 opening credit sequence, Zach McLemore and Victor Cohn-Lopez)
See also
References