Jurassic World: Dominion Dominates Fandom Wikis - The Loop
Play Sound
All That


season navigation
Original Era
1 • 2 • 3 • 4 • 5 • 6
Relaunch Era
7 • 8 • 9 • 10
Revival Era
11
All That's 8th season is the second season of the Relaunch Era. It began on September 21, 2002 and ended on February 22, 2003, and was taped from May to October 2002.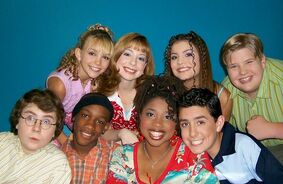 The show saw many changes before the start of the season. Since Season 7 was more of an experiment season, producers knew what worked and what didn't work with the show. Pickle Boy was taken out and only shown on rare occasions, and a formal green room was introduced. Like the first six seasons, the cast would start the show in the green room before starting the show. The intro was the same as the previous season, but with Spears edited in.
The entire cast from the last season returned for their second season on the show. Producers added Jamie Lynn Spears (credited as Jamie Spears) to the cast, who was also the young sister of singer Britney Spears, due to her interest in being on the show. Claims of nepotism arose from this, and ironically, Britney Spears would show up and host and perform in this season.
This would be the final season for Bryan Hearne. Hearne wished to leave the show after two seasons so he could focus on his music career.
This is also the first season when the cast began to performed SNICK On-Air Dare. After the season ended, producers wanted to switch things up when looking for new cast members for the following season. Producers got Nickelodeon to hold a contest called "R U All That?: Nickelodeon's Search for the Funniest Kid in America" to find the new cast member.
Cast
Repertory Players
Check season 8 in full series episode list for correct air dates.
Season 8
Season #
Series #
Title
Original Air-Date
Code
1
131
"B2K"
September 21, 2002
801
*Green Room - Meet Jamie: The cast is searching for a new cast member they are having tryouts in the greenroom Jamie Lynn Spears comes in and is trying to impress the cast with her superpowers since that didn't work, she takes out a wad of cash and the cast welcomes her.

Bridgett´s Slumber Party: Three Potential Girlfriends for Elliot
Advice From The Old Lady in Shane's Mouth
Story Time With The Osbournes: The Three Little Pigs
Bucketman: Jewelry Store Robbery
Know Your Stars: Jamie Spears
The Old Lady in Shane's Mouth introduces "B2K"
Musical Guest: B2K ("Why I Love You")

(First Episode to Feature Jamie Spears)

2
132
"Buddy Hackett/Daryl Sabara & Alexa Vega / Play feat Chris from Dream Street"
September 28, 2002
802
*Green Room - Very Old Interaction: A very old cast member shows up in the All That greenroom.

Taxi Cab: Spy Kids
Thelma Stump: Jack DeSena tries to pass Thelma Stump (Jamie Spears)
Randy Quench: Birthday Party
Know Your Stars: Daryl Sabara & Alexa Vega
Randy Quench (Jack De Sena) introduces Play & Chris Trousdale
Musical Guest: Play featuring Chris from Dream Street ("I'm Gonna Make You Love Me")

SPECIAL GUEST STARS: Alexa Vega, Darly Sabara and Buddy Hackett (as Knubby McFarlin "The Really Old Cast Member")

3
133
"Yasmeen"
October 5, 2002
803
*Green Room - Hamster Mind Control: Chelsea reads a book on controlling the hamster's mind, but she ends up controlling Shane's mind.

Sugar & Coffee: Buzz and Kaffy start to freak out when the orbs aren't working.
Connect the Zits: Duck
Trashin' Fashion: School Cafeteria
Know Your Stars: Bryan Hearne
Story Time With The Osbournes: Rip Van Winkle
Bridgett, Gail, and Claudia introduce "Yasmeen"
Musical Guest: Yasmeen ("Blue Jeans")

4
134
"Jeffrey Licon / Jennifer Love Hewitt"
October 12, 2002
804
*Green Room - Hot Tub: Jack, Kyle, and Bryan buy a hot tub.

Bridgett's Slumber Party
Rate the Pain: A Brass Bell
Shane VS Things: A Toilet
Rowdy Fans: Dinner Date
Vocabulary With Lisa: "Stick" and "Thumb"
Know Your Stars: Jeffrey Licon
Hair Salon Guy introduces "Jennifer Love Hewitt"
Musical Guest: Jennifer Love Hewitt ("Barenaked")

SPECIAL GUEST STAR: Jeffrey Licon

5
135
"Justin Timberlake / Aaron Carter"
October 19, 2002
805
*Green Room - Jack's New Mustache: Jack gets a new mustache and the cast thinks of the fun things they can do with it.

Sugar & Coffee
Thelma Stump: Special Guest Justin Timberlake meets Thelma but, will not let him by over a piece of bacon
Wake Up Scene: Justin Timberlake
Randy Quench: Wedding
Storytime With the Osbournes: The Little Red Riding Hood
Know Your Stars: Bryan Hearne
Hair Salon Guy introduces "Aaron Carter"
Musical Guest: Aaron Carter ("To All The Girls")

SPECIAL GUEST STAR: Justin Timberlake

6
136
"Steve Bridges / Tom Green / Avril Lavigne"
October 26, 2002
806
*Green Room - Halloween Costumes: The cast dresses up as each other for Halloween while Shane dresses as a ballerina.

Bridgett's Slumber Party: Bridgett and Gail have a slumber party at Claudia's House with Special Guest: Tom Green
Thelma Stump: George Bush (Steve Bridges)
Bucketman: Fancy Restaurant
Know Your Stars: Kyle Sullivan
Bryan Hearne introduces "Avril Lavigne"
Musical Guest: Avril Lavigne ("Sk8er Boi")

SPECIAL GUEST STARS: Tom Green (as mummy and himself) and Steve Bridges (as George W. Bush)

7
137
"3LW"
November 2, 2002
807
*Green Room - Jamie's Evil Twin: Giovonnie, Jack, Chelsea and Shane are suspicious that Jamie is evil when she throws her grape juice on Giovonnie's new outfit, pulls out Chelsea's hair and attacks Shane with his new model airplane. So, the cast are about to get her, until Jamie arrives and she's here to help. They figure it out that if she is real and the evil clone of herself is actually a monster.

Trashin' Fashion: School Hallway
What's for Dinner: Exploding Meatloaf
Rate the Pain: A Very Large Rock
The Max and Mr. Flopples Show: Max and Mr. Flopples meet 3LW
Know Your Stars: Jack De Sena
Thelma Stump introduces "3LW"
Musical Guest: 3LW ("I Do")

8
138
"Nick Carter / BBMak"
November 9, 2002
808
*Green Room - Jack's Camera on Shane's Head: Jack installs a camera on Shane's forehead, and he shows the cast what Shane is doing. Special Guests: Nick Carter and George W. Bush (Steve Bridges)

Rowdy Fans: Operating Room
Vocabulary with Lisa: "Income" and "Cattle"
Wake Up Scene: Nick Carter
Chit Chat
Know Your Stars: Jamie Spears
Sneaky Camera with Vance Lafoon
Stacey Chit introduces "BBMak"
Musical Guest: BBMak ("Out of My Heart")
Guest Star: Nick Carter

9
139
""Harry Bladder Special""
November 16, 2002
809
Today on All That instead of some skits and a musical guest, it's a Harry Bladder clip show episode featuring the Harry Bladder sketches from season 7.
10
140
""Britney Spears / Justincase""
January 18, 2003
810
*Green Room - Security Machine: A man named Pal delivers a vat of pickles and installs a cheese cannon to the cast of All That, until he gets a wicked electrical shock, then gets zapped by red, blue lasers and gets covered with hot cheese and gets sent to Austarlia by two ninjas and a sailor. Afterwards the cast are getting ready for show, Lisa gets all covered with hot cheese.

Taxi Cab
Thelma Stump: Britney Spears runs into Thelma Stump while trying to get into the show.
Connect the Zits: A Sailboat
Trashin' Fashion: School Dance
What's for Dinner: Exploding Lasagna
Know Your Stars: Giovonnie Samuels
Marlee and Carlee introduce "Justincase"
Musical Guest: Justincase ("Don't Cry for Us")
Guest Star: Britney Spears

11
141
""Nick Cannon & Orlando Jones / Monica""
January 25, 2003
811
*Green Room - Soda Explosion Prank: While Bryan goes to sharpen his pencil to do his homework, the cast and Pickle Boy decide to play a prank on him by shaking up his soda can so that it would spray all over him. However, the prank soon backfires at the cast when the soda explodes in their faces after Bryan opens the soda can before he went to go sharpen his pencil again.

Tea & Crumpets with Wembly and Fiona/Sugar and Coffee: Wembly (Jack) and Fiona (Chelsea) interview the Queen of England until Buzz and Kaffy take over the show for Sugar and Coffee.
Thelma Stump: Nick Cannon and Orlando Jones
Rowdy Fans: Spaceship
Know Your Stars: Nick Cannon
Thelma Stump introduces "Monica"
Musical Guest: Monica ("All Eyez On Me")
Guest Stars: Nick Cannon and Orlando Jones

12
142
"Debbie Gibson"
February 1, 2003
812
*Green Room - Ham Slapping Contest:

Sugar & Coffee: A Doctor
Vocabulary with Lisa
Advice from the Old Lady in Shane's Mouth
Know Your Stars: Giovonnie Samuels
Lisa Foiles introduce "Debbie Gibson"
Musical Guest: Debbie Gibson

13
143
"Matthew Lillard/O-Town"
February 8, 2003
813
*Green Room - Fishing for Matthew Lillard: Jack, Kyle, and Jamie fish for Matthew Lillard.

Chit Chat
Advice from the Old Lady in Shane's Mouth
Connect The Zits: A Flower
Randy Quench Volunteer Fireman: Hair Salon
Know Your Stars: Lisa Foiles
Claudia introduces "O-Town"
Musical Guest: O-Town ("I Showed Her")
Guest Star: Matthew Lillard

14
144
"Tom Green/No Secrets"
February 15, 2003
814
*Green Room - Jamie's Time Machine: Jack and Giovonnie hop on Jamie's travel couch.

Sugar and Coffee: Wanda Hubley/Tom Green
Shane VS Things: A Little Old Lady
Wake Up Scene: Tom Green eating an apple
Rate the Pain: Grandma in a Bikini
Bridgett's Slumber Party: Cheerleading Squad
Story Time With The Osbournes: Goldilocks and the Three Bears
Know Your Stars: Shane Lyons
Bucketman introduces "No Secrets"
Musical Guests: No Secrets ("That's What Girls Do")
Guest Star: Tom Green

15
145
"Steve Bridges as George W. Bush/Avril Lavigne"
February 22, 2003
815
*Green Room - Comedy Bootcamp: A comedy drill instructor shows up and teaches the cast how to be funny. He flicks Shane's nose twice, makes Jamie do a poorly spit take, and makes Bryan pantsed down Kyle's pants. Pickle Boy shows ups and gets rid of the drill instructor after the drill instructor insults Pickle Boy.

T.R. Yell: Lil' Fetus
Shane VS Things: A Football Team
Rate the Pain: A Mallet
Bucketman: Grocery Store
Vocabulary with Lisa: "Vacuum" and "Shame"
Know Your Stars: Chelsea Brummet
Steve Bridges as George W. Bush introduces "Avril Lavigne"
Musical Guest: Avril Lavigne ("Complicated")
Guest Star: Steve Bridges as George W. Bush

(Last Episode to Feature Bryan Hearne)
References
Template:Empty section
External links