Jurassic World: Dominion Dominates Fandom Wikis - The Loop
Play Sound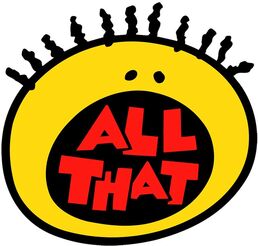 The following is an episode list for All That. Nickelodeon first aired the series as a special premiere on April 16, 1994, but officially began on January 21, 1995.
The first six seasons of All That are considered The Old All That (1994–2000), or otherwise known as The "Golden Era". The 2nd run of All That, which contained the next 4 seasons, are famously known as The New All That, or just titled The "Relaunch Era" (2002–2005). After the end of All That's sixth season, Nickelodeon cancelled The "Golden Era" continuity. Nickelodeon postponed airing new episodes of All That, so they had to skip the 2000-2001 Season, which they can prepare for the Relaunch Era of All That in 2002.
Ending Season 8, Nickelodeon aired the finals of R U All That?: Nickelodeon's Search for the Funniest Kid in America. The finals aired on Saturday, July 26, 2003, with former cast Nick Cannon (via satellite) and Amanda Bynes were the judges. The winner ended up being the new cast member of All That.
Nickelodeon's All That 10th Anniversary Reunion Special was a 10-year anniversary reunion that aired on April 23, 2005. It featured crossover sketches, numerous guest celebrities, the cast members from the past and present, and was hosted by Frankie Muniz.
In 2005, after Season 10 of All That, Nickelodeon and Dan Schneider, executive producer of All That, decided to cancel the show, after the past ten years (12 years of airing on Nickelodeon). In 2008, sister network The N aired reruns until September 2008.
By October 22, 2005, ten seasons and a total of 167 episodes had aired, with two unaired episodes from the tenth season.
Series overview
Season
Episodes
Originally
aired
1
15
1994–1995
2
21
1995–1996
3
20
1996–1997
4
21
1997–1998
5
18
1998–2000
6
14
2000
Best of...
16
2001
7
13
2002
8
16
2002–2003
9
17
2003–2005
10
16
2005
11
TBA
2019-present
Episodes
Golden Era (1994-2000)
Season 1 (1994-1995)
Season #
Series #
Episode title
Original air date
Nick prod. #
1
1
"Phil Moore/TLC"
April 16, 1994
Pilot
2
2
"Da Brat"
January 21, 1995
101
3
3
"TLC"
January 28, 1995
102
4
4
"Immature"
February 4, 1995
103
5
5
"Craig Mack"
February 11, 1995
104
6
6
"Malcolm-Jamal Warner/Brandy"
February 18, 1995
105
7
7
"Aaliyah"
February 25, 1995
106
8
8
"Coolio"
March 4, 1995
107
9
9
"Soul 4 Real"
March 11, 1995
108
10
10
"Changing Faces"
March 18, 1995
109
11
11
"Blackstreet"
April 1, 1995
110
12
12
"Zhané"
April 8, 1995
111
13
13
"Usher"
April 15, 1995
112
14
14
"A Few Good Men"
April 22, 1995
112
15
15
"Aftermath feat. Kel Mitchell"
April 29, 1995
114
Season 2 (1995-1996)
Season #
Series #
Episode title
Original air date
Nick prod. #
1
16
"Naughty by Nature"
October 7, 1995
216
2
17
"Monica"
October 7, 1995
217
3
18
"Larisa Oleynik/Da Brat"
October 14, 1995
218
4
19
"Malcolm-Jamal Warner/Mokenstef"
October 28, 1995
219
5
20
"Jon B."
November 4, 1995
220
6
21
"The Twinz"
November 11, 1995
221
7
22
"Monteco"
November 18, 1995
222
8
23
"Soul 4 Real"
November 25, 1995
223
9
24
"Subway"
December 2, 1995
224
10
25
"Run-DMC"
December 23, 1995
225
11
26
"Xscape"
January 6, 1996
226
12
27
"Diana King"
January 13, 1996
227
14
29
"Mark Curry/Deborah Cox"
January 27, 1996
229
15
30
"Immature"
February 3, 1996
230
16
31
"Terry Ellis"
September 7, 1996
231
17
32
"Faith Evans"
September 14, 1996
232
18
33
"Silk"
September 21, 1996
233
19
34
"Shai"
September 28, 1996
234
20
35
"IV Xample"
October 5, 1996
235
21
36
"Good Burger Special"
September 19, 1996
236
22
37
"Monifah"
October 12, 1996
237
Season 3 (1996-1997)
Season #
Series #
Episode title
Original air date
Nick prod. #
1
38
"Tia & Tamera Mowry"
November 16, 1996
338
2
39
"Montell Jordan"
November 23, 1996
339
3
40
"Oliver Muirhead/Immature ft Smooth and Kel Mitchell"
November 30, 1996
340
4
41
"Dru Hill"
December 7, 1996
341
5
42
"Tyra Banks / Blackstreet"
December 14, 1996
342
6
43
"Music Special"
December 17, 1996
343
7
44
"A Tribe Called Quest"
December 21, 1996
344
8
45
"702"
December 28, 1996
345
9
46
"Tony! Toni! Tone!"
January 4, 1997
346
10
47
"Chris Farley/Mint Condition"
January 11, 1997
347
11
48
"112"
January 18, 1997
348
12
49
"Sherman Hemsley/Nas"
January 25, 1997
349
13
50
"John Leguizamo/Mona Lisa"
February 1, 1997
350
14
51
"Ray J"
February 8, 1997
351
15
52
"For Real"
September 20, 1997
352
16
53
"Dr. Joyce Brothers and Sherman Hemsley/Heavy D"
September 13, 1997
357
17
54
"Az Yet"
September 27, 1997
354
18
55
"Aaliyah"
October 4, 1997
353
19
56
"Monica"
October 11, 1997
355
20
57
"MC Lyte"
October 18, 1997
356
21
58
"Erykah Badu"
October 25, 1997
358
Season 4 (1997-1998)
Season #
Series #
Episode title
Original air date
Nick prod. #
1
57
"Mase"
November 15, 1997
457
2
58
"Busta Rhymes"
November 22, 1997
458
3
59
"Tommy Davidson/Robyn"
December 6, 1997
459
4
60
"Wyclef Jean"
December 20, 1997
460
5
61
"Dru Hill"
December 27, 1997
461
7
63
"Mary J. Blige"
January 10, 1998
463
8
64
"Spice Girls"
January 17, 1998
464
9
65
"Missy Elliott"
January 24, 1998
465
10
66
"Usher Raymond"
January 31, 1998
466
12
68
"Backstreet Boys"
February 21, 1998
468
13
69
"Boyz II Men"
February 28, 1998
469
14
70
"Destiny's Child"
October 17, 1998
470
15
71
"LL Cool J"
October 24, 1998
471
16
72
"Jermaine Dupri ft Da Brat"
October 10, 1998
472
17
73
"Salt-N-Pepa"
October 17, 1998
473
19
75
"Kobe Bryant/Ice Cube"
October 31, 1998
475
20
76
"The Lox"
November 21, 1998
476
21
77
"Sugar Ray"
November 28, 1998
477
Season 5 (1998-2000)
Season #
Series #
Episode title
Original air date
Nick prod. #
1
78
"Blackstreet ft Mýa"
December 12, 1998
578
2
79
"Tatyana Ali"
December 19, 1998
579
3
80
"Deborah Cox"
January 2, 1999
580
4
81
"Shaquille O'Neal"
January 9, 1999
581
5
82
"Monica"
January 16, 1999
582
6
83
"Faith Evans"
January 23, 1999
583
7
84
"Mýa"
January 30, 1999
584
8
85
"98 Degrees"
February 6, 1999
585
9
86
"All That Live! (100th episode)"
March 13, 1999
586
10
87
"112"
March 20, 1999
587
11
88
"Outkast"
March 27, 1999
588
11
89
"Divine"
April 3, 1999
589
12
90
"5 Young Men"
April 10, 1999
590
13
91
"Joey McIntyre"
April 17, 1999
591
15
93
"3rd Storee"
January 1, 2000
593
16
94
"New Radicals"
January 8, 2000
594
17
95
"The M.A.F.T. feat. Kel Mitchell"
January 15, 2000
595
18
96
"Shanice"
January 22, 2000
598
Season 6 (2000)
Season #
Series #
Episode title
Original air date
Nick prod. #
1
97
"B*Witched"
January 29, 2000
696
2
98
"The cast from Snow Day/Hoku"
February 5, 2000
697
3
99
"Mandy Moore"
February 12, 2000
698
4
100
"Blaque"
February 19, 2000
699
5
101
"LFO"
February 26, 2000
600
6
102
"M2M"
March 4, 2000
601
7
103
"Sammie"
March 25, 2000
605
8
104
"N*SYNC"
April 1, 2000
606
9
105
"No Authority"
April 8, 2000
607
10
106
"Britney Spears"
April 15, 2000
608
11
107
"Ideal"
October 7, 2000
609
12
108
"Tracie Spencer"
October 14, 2000
610
Relaunch (2002-2005)
Season 7 (2002)
Season 8 (2002-2003)
Season #
Series #
Episode title
Original air date
Nick prod. #
1
115
"B2K"
September 21, 2002
827
3
116
"Yasmeen"
October 5, 2002
829
4
117
"Jeffrey Licon/Jennifer Love Hewitt"
October 12, 2002
830
6
118
"Tom Green/Avril Lavigne"
October 26, 2002
832
7
119
"3LW"
November 2, 2002
833
8
120
"Nick Carter/BBMak"
November 9, 2002
834
12
121
"Debbie Gibson"
February 1, 2003
837
13
122
"Matthew Lillard/O-Town"
February 8, 2003
838
Season 9 (2003-2004)
Season #
Series #
Episode title
Original air date
Nick prod. #
1
138
"Lillix"
October 11, 2003
941
2
139
"Nodesha"
October 18, 2003
942
3
140
"Da Razkalz Cru"
October 25, 2003
943
4
141
"Third Eye Blind"
November 1, 2003
944
5
142
"Fefe Dobson"
November 22, 2003
945
7
144
"Drake Bell"
January 10, 2004
947
8
145
"OK GO"
January 24, 2004
948
10
147
"Brittany Snow/Wakefield"
February 7, 2004
950
11
148
"Boomkat"
February 14, 2004
951
12
149
"Nick Lachey"
April 17, 2004
952
14
151
"Substitute Jack"
June 19, 2004
954
16
153
"10th Anniversary Reunion Special"
April 23, 2005
Special
Season 10 (2005)
Season #
Series #
Episode title
Original air date
Nick prod. #
1
154
"Mario"
April 30, 2005
1001
2
155
"Fantasia Barrino"
May 7, 2005
1002
3
156
"Jesse McCartney"
May 14, 2005
1003
4
157
"JoJo"
May 28, 2005
1009
5
158
"Tyler Hilton"
June 4, 2005
1004
7
160
"Bow Wow"
unaired
1011
9
162
"Lil Romeo/B2K"
September 10, 2005
1013
10
163
"Ashlee Simpson"
September 17, 2005
1015
11
164
"Frankie J"
September 24, 2005
1016
12
165
"Morgan Smith"
October 1, 2005
1005
13
166
"Brooke Valentine"
October 8, 2005
1006
14
167
"American Hi-Fi"
October 15, 2005
1007
15
166
"Brie Larson"
unaired
1012
16
167
"Lalaine"
October 22, 2005
1008
Current Era (2019-present)
Season 11 (2019-present)
Season #
Series #
Episode title
Original air date
Nick prod. #
1
172
"Episode 1101"
June 15, 2019
1101
2
173
"Episode 1102"
June 22, 2019
1102
3
174
"Episode 1103"
June 29, 2019
1103