Wiki Targeted (Entertainment)
Play Sound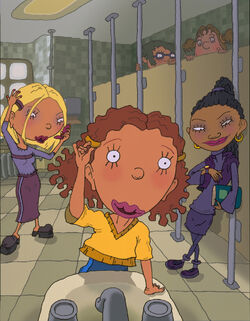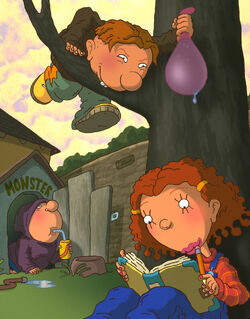 As Told By Ginger is an animated series which debuted on Nickelodeon in 2000. It was created by Emily Kapnek and was the last original Nicktoon produced by Klasky-Csupo (the creators of Rugrats).
Premise
The show revolves around the life of Ginger Foutley, a typical junior high school student who lives in a fictional Connecticut community named Sheltered Shrubs. She often tries to improve her social calendar and become more popular, but usually gets mixed up in jams because of guidance from her three best friends - Dodie, Macie and Courtney - and the schemes of her nemesis, Miranda. Ginger also receives guidance from her mother, Lois, who is a nurse at the hospital. Every episode ends with Ginger writing a story in her diary recapping the events of the show.
The series is unique among other Nicktoons, since it is a coming-of-age teen drama series, has an ongoing story arc, deals with mature subjects, the characters age, change their clothes and there is little-to-no comedy or fictional stuff at all. As a result, the show was the only Nicktoon to be promoted to the TEENick block.
Episodes
→ Main article: As Told by Ginger episode list
Broadcast history
Nickelodeon (October 25, 2000-December 27, 2008)
NickToons (May 1, 2002-January 1, 2009)
TeenNick (October 9, 2015-Present)
Reception
As Told By Ginger has been praised for being one of the first kids' cartoons to have ongoing narrative arcs, mature subjects, real-life situations and characters who actually evolved and aged. The show got nominations for three Emmys. As a result, it is often considered Klasky Csupo's best Nicktoon (besides the Rugrats franchise).
Home video releases
→ Main article: As Told by Ginger videography
Paramount Home Video gave the show two releases on both VHS and DVD, both of which featured special hour-length episodes, with two extra regular episodes each on the DVDs. To date, As Told by Ginger has not received any season sets.
Gallery
External links
"Gee, this is harder than I thought."
This article doesn't contain enough information. If you know anything about As Told by Ginger,