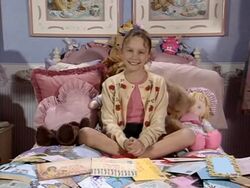 Ask Ashley was a regular sketch on All That, featured from the third season through the sixth season. The sketch featured Amanda Bynes as a little girl named Ashley, who offered advice from her bedroom on a TV series. Ashley would act sweet and friendly until she read letters to her sent in by clueless viewers. After reading a letter, Ashley would scream an angry rant against the letter's author (although in one scene, she did act normal and still acted nice, sweet and friendly, but that was after she read a normal letter from a boy who asked why he was being ignored, which Ashley does after she picks up another letter). Her catch phrase, "Thaaaaat's me!", which she would say as she started reading each letter, became one of the sketch's trademarks (In later sketches, children in the audience could be heard saying it with her). Ashley's show apparently airs on the same channel as Everyday French with Pierre Escargot.
The first letter that Ashley ever read was written by somebody who had no idea how to turn their peanut butter and jam sandwich over (her mother put the jelly on the wrong side) and Ashley yelled "TURN THE STINKING SANDWICH OVER!!!!" In one memorable sketch, Dr. Joyce Brothers made an appearance to talk to Ashley about her tirades and even read one of the letters, and like Ashley (who was her biggest fan) also launched into a tirade when it came to the letter about a kid who wasn't using the lights when the kid was stumbling in the dark. Another sketch had Danny Tamberelli playing a boy named Robert Freeman who arrived in Ashley's room and read her a letter on how he can get his letter to Ashley to which Ashley told him to use the mail and then orders him to get out of her room. The final letter read by Ashley (in the original series finale) was asking her why she is so mean to everyone who sends letters.
In one episode of The Amanda Show, a reference to the segment was made when Amanda opens a letter on stage. She read the greeting ("Dear Amanda...") and the crowd responded "Thaaaaaat's me!" Amanda responded to the audience with "No, different show, different show." There is another episode where Stuart takes over Ashley, but is caught by Kevin and a few cops. He fires everyone except the female producer who showed more sympathy to him. In the 10th anniversary, when Nick Cannon was introduced on Via Satellite, he said "that's me, wait, that's not my sketch."
Episodes featuring Ask Ashley
Community content is available under
CC-BY-SA
unless otherwise noted.