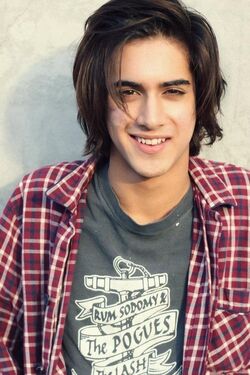 Avan Tudor Jogia (born February 9, 1992) is a Canadian actor.
He is best known for playing Beck Oliver on Nickelodeon's Victorious. However, his experience with the network began when he played Champ in the TV movie Gym Teacher: The Movie. He would later be cast as Tajid in the television movie Spectacular!, where he would meet Victoria Justice, who considers him to be her best friend. The two would later be cast in Victorious. His Canadian origin was later written into the show. He would reprise the role of Oliver on iCarly in the crossover iParty with Victorious. Jogia first came to prominence with his portrayal of Danny Araujo in the 2006 biographical television film A Girl Like Me: The Gwen Araujo Story. After moving to the United States in his late teens, he had landed various television roles within series' such as Caprica, Twisted, and miniseries Tut. Jogia's numerous film credits both within television and cinema, include Spectacular!, Finding Hope Now, Rags, Ten Thousand Saints, and I Am Michael. His directorial debut came about in 2011, with the short film Alex, which was followed by the 2016 web series Last Teenagers of the Apocalypse. Besides acting, Jogia co-founded the LGBT online organization Straight But Not Narrow in 2011, which seeks to shape the viewpoints of teenagers and adults on matters pertaining to the LGBT community. He then went as a panelist on the Figure It Out relaunch.
Among Jogia's future acting roles is a rendition of Shakespeare's A Midsummer Night's Dream.
Community content is available under
CC-BY-SA
unless otherwise noted.