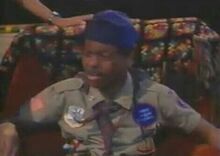 Baggin' Saggin' Barry was a character played by Kenan Thompson in the first two seasons of All That. He is a teenaged boy with extremely large pants. Barry's friends were often stuck in unfortunate situations. Thankfully, he would always have everything that the group needed in his enormous pants, including food, drinks, entertainment, and even transportation (one sketch featured him pulling a full-sized airplane out of his pants).
In one notable episode in the show's second season, Barry met Baggin' Saggin' Mary (Alisa Reyes), and the two engaged in a battle of who had more stuff in their pants. He lost the battle but he got some advice from Clavis to believe what's in his pants and he eventually beats Mary (by pulling Abraham Lincoln out of his pants). He and Mary then go out to a movie, while a narrator informs the viewers that they would eventually marry and have children.
This sketch inspired the title of a later Kenan & Kel episode "Baggin' Saggin' Kel".
Appearances
Community content is available under
CC-BY-SA
unless otherwise noted.