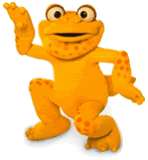 Binyah Binyah Polliwog
is a Yellow polliwog from
Gullah Gullah Island
.
Personality
Binyah Binyah is playful, clumsy, funny, he croaks and makes noises, but can't speak very well. Binyah Binyah is a very good dancer, especially at breakdancing. He is oddly bigger and larger than the human characters.
Trivia
Binyah Binyah was portrayed by the late Phillip D. Garcia until he was killed in a car accident in late 1996, so he was replaced with Justin Campbell for the 4th season.
Binyah Binyah, in fact is a tadpole.
After the original series ended, he received a short lived, self-titled spinoff show.
"Gee, this is harder than I thought."
This article about a character is a stub. You can help Nickipedia by expanding it.
Community content is available under
CC-BY-SA
unless otherwise noted.