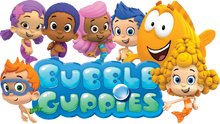 Bubble Guppies is a Nick Jr. Series created by Jonny Belt and Robert Scull that ran from January 24, 2011 to October 21, 2016. It will come back to air again in September 2019. [1]
Bubble Guppies: Guppy Students who learn and Discovers something new and Interesting on their way to school. Requiring minds, searching for answers they ask Mr. Grouper: their teacher.
"Follow me", "Come on"!
Cast
Main Characters
Brianna Gentilella as Molly (Season 1-Season 2)(Singing Voice)
Zachary Gordon as Gil (Season 1-Season 2)
Jelani Imagi as Goby (Season 1-Season 2)
Eamon Pirruccello as Nonny (Season 1-Season 2)
Reyna Shaskan as Oona (Season 1-Season 2)
Angelina Wahler as Deema (Season 1-Season 2)
Bailey Gambertoglio as Molly (Season 3-Season 4)
Jacob Bertrand as Gil (Season 3)
Marleik Mar Mar Walker as Goby (Season 3)
Jet Jurgensmeyer as Nonny (Season 3-Season 4)
Tori Feinstein as Oona (Season 3-Season 4)
Grace Kaufman as Deema (Season 3-Season 4)
Jay Gregnani as Gil (Season 4)
Issac Ryan Brown as Goby (Season 4)
Frank Welker as Bubble Puppy (Season 1-Season 4)
Tino Insana as Mr Grouper (Season 1-Season 4)
Fred Tatasciore as Mr Grouper (Season 3)