Spider-Man: No Way Home Trailer Dropped - The Loop
Play Sound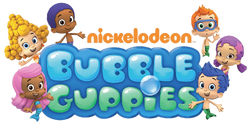 The following is a list of episodes of Bubble Guppies listed in production order.
Overview
Season
Episodes
Originally aired
Season premiere
Season finale
Season 1
20
January 24, 2011
October 24, 2011
Season 2
20
November 4, 2011
May 1, 2013
Season 3
20
August 12, 2013
June 19, 2015
Season 4
14
May 21, 2015
October 21, 2016
Season 5
26
September 27, 2019
March 5, 2021
Season 1 (2011)
#
Title card
Title
Original air date
1

"Call a Clambulance!"
January 24, 2011
2

"The Crayon Prix!"
January 25, 2011
The Bubble Guppies compete in a Grand Prix-like race to win a big box of crayons. But when Gil, the purple racer goes too fast and crashes, it's up to Molly, the blue racer, and Deema, the red racer to make purple, go through the purple hoop, and win the race!
3

"Bubble Puppy!"
January 26, 2011
Sit! Stay! Play dead! Gil wants to adopt a puppy after seeing one he really likes at the pet adoption center, but the Bubble Guppies have to learn how to think of a pet before he can bring it home.
4

"Build Me a Building!"
January 27, 2011
Goby meets a group of construction workers and soon he and the other guppies agree to make a doghouse for Bubble Puppy.
5

"Ducks in a Row!"
January 31, 2011
Nonny meets a marching band with a duck problem. A duck is in the way and they can't play their instruments. But with a little whistle, and a little help from Mr. Grouper and the Bubble Guppies, Nonny learns how to lead the marching band!
6

"The Grumpfish Special!"
February 1, 2011
Deema and Oona decide to open a pizza parlor, but when Mr. Grumpfish, a fish who doesn't like anything comes into their restaurant, can Deema and Oona cheer him up?
7

"The Moon Rocks!"
February 2, 2011
While collecting rocks, Goby meets two astronomers who are looking at the Moon, he then hopes he can get a Moon rock. The Guppies then go to the planetarium where Goby is in for a big surprise from Mr. Grouper.
8

"Who's Gonna Play The Big Bad Wolf?"
February 3, 2011
The Bubble Guppies learn about plays. They see the play, The Three Little Pigs. But the Allergic Wolf can't prefom, and it's up to Deema to put on the costume and take the stage.
9

"We Totally Rock!"
February 28, 2011
Gil and Goby meet a rock band and soon the guppies decide to put on a concert. But when Gil's cymbal goes missing, can the guppies put on the show?
10

"Fishketball!"
March 1, 2011
Gil meets a pair of fish playing volleybubble, but when Gil learns Nonny doesn't know how to catch a ball and the guppies prepare for a game of fishketball, Gil tries to teach him. But can Nonny win the game?
11

"The Legend Of Pinkfoot"
March 2, 2011
12

"Gup, Gup and Away!"
March 3, 2011
Gil and Deema go past the airport on their way to school and get interested in flying an airplane and of course, all the other Guppies want in on it too. They learn how airports and airplanes work and eventually get to experience flying themselves!
13

"The Spring Chicken is Coming!"
April 15, 2011
The Spring Chicken is coming to announce the arrival of spring. Oona gets a plant from the ceremony, but it won't bloom into a flower.
14

"Boy Meets Squirrel!"
April 22, 2011
A friendly squirrel gives Nonny an acorn. And someday that acorn will grow into a big oak tree. But before that happens, the Bubble Guppies learn about animals that live in trees, fruit that grows on trees, and how they can help trees by recycling. President of the Squirrels stops by to thank the Guppies for helping the trees.
15

"Have a Cow!"
May 6, 2011
A Cow named Buterscotch gives birth to a baby calf named Pudding.
16

"Super Shrimptennial Celebration!"
September 19, 2011
17

"Happy Clam Day!"
September 20, 2011
Molly and Gil see Clam trying to mail himself to his cousin Sam's house to make it to a "Happy Clam Day" party. However, instead, the Guppies and Mr. Grouper get the idea to invite Sam to the school and have a Happy Clam Day party there. All the while, they learn about the mail system and how it works.
18

"Can You Dig It?"
September 21, 2011
19

"Bubble Bites!"
September 22, 2011
Gil was walking to school until he finds a shopping cart strolling down a hill, then all of the guppies learn about the supermarket.
20

"Haunted House Party!"
October 24, 2011
In this episode, Gil and Goby see a very spooky haunted house on their way to preschool and they talk to the snail who lives there. She tells them that there is going to be a haunted house party that night. Gil and Goby go tell the other Guppies and they learn all about Halloween.
Season 2 (2011-2013)
#
Title card
Title
Original air date
21

"X Marks the Spot!"
November 4, 2011
Molly and Gil find a pirate looking for buried treasure on their way to school and ask why he can't find it. The pirate gives them a map to the treasure and tells them if they can figure it out, he'll make Molly, Gil, and their friends honorary pirates. So the Guppies learn all about pirates, such as how to act like a proper pirate, how to dress like a pirate, and other fun pirate stuff, and they eventually go on a journey to find the treasure!
22

"Happy Holidays, Mr. Grumpfish!"
December 9, 2011
The Bubble Guppies are celebrating the holidays and everyone is in the holiday spirit, except Mr. Grumpfish. Can the Bubble Guppies find the one thing  to brighten his mood?
23

"The Lonely Rhino!"
2011
In this episode, Molly and Gil meets a lonely rhino and find out he has no friends.
24-25

"Bubble Puppy's Fin-tastic Fairytale!"
February 19, 2012
26

"The Cowgirl Parade!"
March 9, 2012
Molly and Gil see a cowgirl named Dusty on her horse named Rusty practicing with her lasso and heading to the Cowgirl Parade and afterwards, the Guppies are thrown into a day of learning about what cowboys and cowgirls do. When the Guppies get to the parade, Dusty's calf gets into trouble, and Molly has to use everything she's learned to save the day.
27

"Firefighter Gil to the Rescue!"
March 23, 2012
When Gil and Bubble Puppy get stuck in a tree, a heroic team of firefighters comes to the rescue!, But what happens when the firefighters get stuck in a tree? Can Gil and his team of Bubble Guppy firefighters work together, and save the day?
28

"A Tooth on the Looth!"
May 4, 2012
29

"Humunga-Truck!"
May 15, 2012
There are lots of different kinds of trucks, but only one that can turn into a giant robot - Humunga-Truck! The Bubble Guppies learn all about different kinds of trucks on their way to the big Truck Show!
30

"Check it Out!"
September 7, 2012
Gil has lost his library card and all the Guppies proceed to look for it while learning all about libraries and books.
31

"The Beach Ball!"
September 17, 2012
Molly and Gil head to the beach where they hear from their friend Sandy about a party that she may not go to because of her work. The Guppies argee to go while they learn all about the beach and what you can do there.
32

"The Sizzling Scampinis!"
September 18, 2012
Molly and Gil pass by a big circus tent on their way to school and they check it out. They see the "Sizzing Scampini" brothers practicing their act and the ringmaster invites them to see the Bubble Brothers Very Popular Big Top Circus show that night. This leads the Guppies into a day of learning all about the circus and what is at the circus to see.
33

"Construction Psyched!"
September 19, 2012
34

"Bubble-Cadabra!"
September 20, 2012
Molly and Gil become assistants to "The Amazing Daisy," a magician, and promise to help her out in her big magic show that night. Molly and Gil tell their fellow Guppies all about it and they learn all about magic and illusions.
35

"Only the Sphinx Nose!"
March 11, 2013
Gil and Molly come across a museum holding a special exhibit on the Sphinx, and they ask the curator what happened to the Sphinx's nose. But he says nobody knows what happened, so Gil, Molly and the rest of the Guppies and Mr. Grouper try to solve the mystery while learning all about Egypt.
36

"Sir Nonny The Nice!"
March 13, 2013
Molly and Gil go to school seeing Nonny watching a knight and his horse jumping over fences. Nonny then, unknowingly challenges Sir Mulligan the Awesome (Sir Supar in UK) and he accepts. Without much of a choice, Nonny takes on the challenge and the rest of the gang learns all about knights.
37

"Bubble Duckies!"
January 22, 2013
The guppies learn about birds.
38

"Triple-Train-Track Race!"
January 24, 2013
Molly and Gil pass by a train station and meet a train engineer and his train, a locomotive named Ol' Number 9. The engineer is preparing for attending a train race and they tell the others about it. They learn all about trains, including the kinds of trains and the parts that makes them work. Ol' number 9 wins the race.
39

"Bring on the Bugs!"
April 29, 2013
40

"Good Hair Day!"
May 1, 2013
Season 3 (2013-2015)
#
Title card
Title
Original air date
41

"Get Ready For School!"
August 12, 2013
Oona's friend Avi is worried about his first day of school; the guppies reveal that school is a great place to learn, play and meet new friends.
42

"The Police Cop-etition!"
September 6, 2013
Officer Miranda teaches Gil and the other children how police use laws to keep people safe and how important it is to obey the laws.
43

"The Elephant Trunk-a-Dunk!"
September 23, 2013
44

"The Super Ballet Bowl"
September 25, 2013
Molly and the Bubble Guppies learn about ballet.
45

"The Wizard of Oz-tralia!"
October 15, 2013
A nature show host teaches the Guppies about Australia's wildlife.
46

"The Arctic Life!"
October 17, 2013
Gil and his friends learn about the North Pole.
47

"Puppy Love!"
November 8, 2013
A veterinarian takes care of Bubble Puppy when he is sick. While they wait, the Guppies learn more about dogs.
48-49

"The Puppy And The Ring!"
December 5, 2013
The Guppies, Mr. Grouper, and Bubble Puppy star in a Lord Of The Rings inspired adventure.
50

"The Amusement Parking Lot!"
February 26, 2014
The children learn about cars and how they need fuel to make them go.
51

"Good Morning, Mr. Grumpfish!"
February 28, 2014
While Mr. Grumpfish is their substitute teacher, the children teach him about their favorite things by singing about them.
52

"The Oyster Bunny!"
April 14, 2014
The Guppies learn about baby animals.
53

"The Unidentified Flying Orchestra!"
May 20, 2014
The Guppies learn about all of the different things that make up an orchestra.
54

"Come to Your Senses!"
May 22, 2014
After Nonny breaks his glasses, the Guppies learn about the five senses and what purpose each of them serve.
55

"The Bubble-Bee athalon!"
September 2, 2014
Molly and Gil meet a Beekeeper on their way to school and the Guppies learn about a bee's day.
56

"Party at Sea!"
September 3, 2014
After Molly and Gil meet a captain of a tugboat, they get the rest of the class thinking about all kinds of boats.
57

"Bubble Scrubbies!"
September 23, 2014
The residents of Bubbletucky are catching colds! The kids learn how to prevent themselves from getting sick.
58

"Swimtastic Check-Up!"
September 25, 2014
The guppies learn about their organs. The Mayor gets a tummy ache while training for Bubbletucky's annual marathon and has to go to the hospital to get checked out.
59

"Gobble Gobble Guppies!"
November 26, 2014
It's harvest time at The Pirate Lobster's pumpkin patch. After Molly and Gil meet him and his turkey, Giblet, on the way to school, they get the class talking about what happens in Autumn.
60

"A Very Guppy Christmas!"
December 12, 2014
After Molly and Gil meet a Christmas tree farmer name Mr. Claws and his horse, Snowflake, the two guppies get the classes thinking about horses and holiday fun.
61

"Puddleball!"
January 27, 2015
The Bubble Guppies invent a new game to play in the rain. But when the weather becomes too wet, even for Puddleball, Bubble Puppy must overcome his fear of thunder to save the game.
62

"The Running of The Bullfrogs!"
January 29, 2015
After Gil and Goby bring a tadpole to school, the class learns about the lifecycle of frogs.
63

"Bubble Kitty!"
February 27, 2015
Molly, Gil and Bubble Puppy come across a lost kitten. When she follows them to school, the class begins to think about cats.
64

"Super Guppies!"
May 1, 2015
Molly and Gil bring a comic book to school: 'The Super Adventures of Guppy Girl and Bubble Boy!', which Mr. Grouper reads to the class. The kids are excited and want to know all about superheroes.
65

"A Dolphin is a Guppy's Best Friend!"
May 19, 2015
Molly, Gil and the Guppies must lead a baby dolphin named Buddy to his surprise birthday party.
66

"Fruit Camp!"
June 19, 2015
Deema must learn to try broccoli for the first time if she wants to earn her Broccoli Badge.
Season 4 (2015-2016)
#
Title card
Title
Original air date
67

"The Glitter Games!"
May 21, 2015
The guppies learn about royalty and manners.
68

"Costume Boxing!"
June 2, 2015
The Bubble Guppies learn all about different kinds of clothes, costumes and fastenings, and Molly performs in the big quick-change dress-up match!
69

"The New Doghouse!"
June 4, 2015
When an accident destroys Bubble Puppy's doghouse, the entire neighborhood volunteers to help build a newer, even better one and the guppies learn about the neighbourhood.
70

"Guppy Movers!"
October 6, 2015
When their friend's moving day does not go as planned, Molly, Gil and the Guppy Movers head out to set things right in his new home.
71

"Batterball!"
October 8, 2015
Molly and Gil get the opportunity to see how bubble-cakes are made when they step into Chef Stef's kitchen, and then make their own - baseball style!
72

"The Temple of the Lost Puppy!"
November 13, 2015
When Bubble Puppy disappears after biting an ancient magical bone, it resulted in sending the guppies in a world search for Bubble Puppy.
73

"Space Guppies!"
January 15, 2016
When the evil robot Major Bummer tries to eliminate music from the galaxy, Captain Gil, Princess Molly and the Guppies must restore peace, harmony and melody.
74

"The New Year's Dragon!"
February 5, 2016
The Guppies are excited for China's Lunar New Year Festival, where they will operate a giant festival dragon the grand parade.
75

"Sheep Doggy!"
March 29, 2016
When Farmer Joe's baby lamb wanders off the farm during a storm, Bubble Puppy becomes a sheepdog to save the day.
76

"Bubble Baby!"
March 31, 2016
Molly is going to have a new sibling. The Guppies get excited about babies; the children go to the hospital to meet a new baby.
77

"Guppy Style! (Part 1)"
April 29, 2016
The Guppies hit the road to see a concert by Stylee, a singing sensation known for her fabulous styles; Molly becomes a pop star to step on stage with Stylee.
78

"Guppy Style! (Part 2)"
April 29, 2016
The Guppies hit the road to see a concert by Stylee, a singing sensation known for her fabulous styles; Molly becomes a pop star to step on stage with Stylee.
79

"The Summer Camp Games!"
June 10, 2016
Summer is here! Molly, Gil, and the rest of the Guppies celebrate the season with lots of outdoor fun. Gil uses his summer camping skills to rescue Bubble Puppy during the Summer Camp Games!
80

"Trick or Treat, Mr Grumpfish!"
October 21, 2016
It's Halloween under the sea in the town of Bubbletucky. Join Molly, Gil and the rest of the gang as they go trick-or-treating. Will Mr Grumpfish smile and join in the fun, or is he just too grumpy for Halloween?
Season 5 (2019-present)
Season 6 (2021-present)