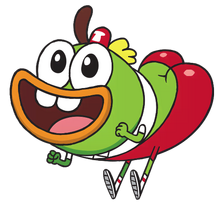 Buhdeuce is a short, round duck who is SwaySway's best friend and navigator in bread delivery. Buhdeuce is depicted as scatterbrained and inattentive. His signature moves are his "booty kick", where he kicks with his rear end, and "six-pack punch", where a fist comes out of his chest and punches. Buhdeuce's catchphrases are "Yep! Yep!" and "Aw, bubble nuggets!".
"Gee, this is harder than I thought."
This article about a character is a stub. You can help Nickipedia by expanding it.