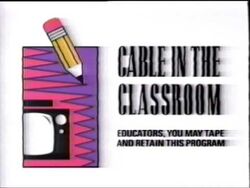 Cable in the Classroom was an American division of the National Cable & Telecommunications Association that assisted the cable television industry in providing educational content to schools. The organization was founded in 1989. A Canadian organization, also called "Cable in the Classroom" ("La câblo-éducation" in French), was founded in 1995, and held the same scope as the US organization.
Nickelodeon originally aired this with educational programs like Nick News, Kids' Court, Launch Box, and Mr. Wizard's World.
It used to be a weekday block after Nick in the Morning.
"Gee, this is harder than I thought."
This article doesn't contain enough information. If you know anything about Cable in the Classroom,