Jurassic World: Dominion Dominates Fandom Wikis - The Loop
Play Sound
Catscratch was a Nicktoon created by Doug TenNapel airing on Nickelodeon in 2005. It is a light-hearted adaptation of TenNapel's graphic novel, Gear. The series features music composed by longtime TenNapel collaborator, Terry Scott Taylor.
Show Summary
Gordon Quid, Waffle, and Mr. Blik were raised in a mansion by Mrs. Edna Cramdilly who left them her house and her fortune when she died. The brothers live a life of freedom, adventure, and total mayhem. They are served by a Butler named Hovis who often assists them on their many adventures.
Characters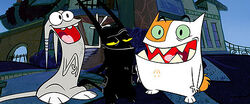 → Main article: List of Catscratch characters
Gordon Quid
Gordon is an orange & white cat. He is very selfless. He has a Scottish accent and claims to be part of the Highland Quint Clan, despite Blik telling Gordon he was born under the couch like him and Waffle, though later on he is made into an honorary member of the clan. He is addictive to food and makes traditional Scottish meals that other people utterly despise or don't have the chance to eat it before he does. He is also best friends with Kimberly whom he loves though she sees him as merely a friend due to her young age. He has a low singing voice that irritates his elder brother, Blik.
Waffle
Waffle is a mau and an innocent idiot. He is one of the only characters of the show that care for others apart from him. He has a newt he named Gomez. Waffles personality is perky, but dumb, however there are moments where Waffle demonstrates incredible intelligence such as giving the definition or explanation of a particular word or circumstance.
Mr. Blik
Mr. Blik is a greedy black cat and a total jerk, but still cares for his brothers in his own way. He has a little bit of heart for Waffle, as seen in To The Moon. He cries for Waffle as they fly back to earth and leave him behind. He is the only one who is smart, but greedy.
Trivia
Many of the cast members in Catscratch were cast in Disney's Lilo & Stitch: The Series, which was airing around the same time.
Episodes
→ Main article: Catscratch episode list
Broadcast history
Nickelodeon (original run, July 9, 2005-February 10, 2007; reruns, February 11-November 22, 2007)
NickToons (November 25, 2007-January 1, 2009; December 19, 2015)
Comics
Confirmed by an e-mail from Doug TenNapel, there were a few 2-page Catscratch comics in the works for Nickelodeon Magazine. The first one appeared in the December/January 2006 issue.
External links