Jurassic World: Dominion Dominates Fandom Wikis - The Loop
Play Sound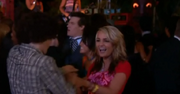 Chasing Zoey is the fourth TV movie of Nickelodeon's Zoey 101. It aired on May 2, 2008, and is the show's series finale.
Plot
Zoey doesn't want to go to the prom but no one knows why. Chase comes back from England. She is now forced to choose between her boyfriend James, or her friend Chase, whom agreed to start dating after he returns.
The end of the school year is approaching, and that means prom is too! Zoey has planned to spend her summer vacation in Maui. James gives her a locket with the inscription I love you – James. on it, but her reaction isn't what she expected. A couple days later Zoey has been avoiding James and she suggests that they stay friends. Zoey tells him that there is something stopping her from loving him.
Zoey breaks up with James, meaning that she does not have a date for prom. Michael gets a classic car from his father so he can drive Lisa to the Prom. The only problem is Michael can't drive a stick shift.
Luckily, he finds guidance from a mysterious Japanese man. Quinn and Logan want to go to prom together, but they want to keep their secret as well. They decide to choose each other's dates — the result being Logan going with Stacey and Quinn going with Dustin. Lola is named head of the prom committee, but chooses to give Stacey the work instead of doing it herself. All she wants is to arrive fashionably late, but ends up getting in a small incident with a taxi driver.
Chase returns to PCA. After Zoey helps him from multiple large falls and tending to his bleeding arm they finally kiss and Zoey ends up going to the prom with him. The episode debuts Quinn and Logan's relationship being public. This also marks the first time Logan and Quinn tell each other that they love each other. Stacey's voice becomes normal after being hit by Michael's car, and in the end we see her dancing with Mark, Quinn's ex-boyfriend. Zoey announces that she and Chase are now boyfriend and girlfriend. Zoey then asks Chase to accompany her to Hawaii and he says "yes".
Cast
Main Characters
Brief Appearances
Sean Flynn

as Chase Matthews (Ending of Part 2)
Austin Butler as James Garrett ( Part 1)
Supporting
Outcomes
Zoey breaks up with James halfway through the movie. Chase later returns to PCA, and after making a clumsy entrance (similar to the pilot, when Chase first met Zoey and hit a pole while riding his bike), Zoey and Chase share their first kiss. They later go to the prom, where they inform everyone of their relationship, and Zoey invites him to stay with her in Hawaii for the summer.
Quinn and Logan pair each other up with Dustin and Stacey respectively so to not arouse any suspicion of them dating. During the prom however, they later confess their love for each other where they kiss for the first time in public.
Stacey gets invited to the prom by Logan, due to his and Quinn's agreement. During the prom, Logan confesses his love for Quinn. Upset, Stacy runs outside into the main road, where she is hit by Michael's car. Instead of injuring her however, it instead fixes her lips, allowing her to speak properly. She is later seen dancing with Mark Del Figgalo.
Lola becomes head of the Prom Committee, where she has Stacey do all the work while she relaxes. She agrees with Vince to arrive to the prom "fashionably late," they end up becoming lost in the woods due to unforeseen events. Luckily, with the aid of the nerds, Lola and Vince make it to the prom before it finishes.
After getting her a locket enscribed "I love you - James" Zoey begins acting strangely around James. James later realizes something is disturbing Zoey, and so he gracefully breaks up with her but they stay friends because they both wanted to, even if she doesn't love him back. Zoey is later seen at the prom with Chase.
Reception
This movie drew about 7.3 million viewers, more than double of the series' average viewers.[1][2]
Zoey One-o-Win Week
Heavy Marketing was announced to promote the new TV movie with a week long sweepstakes titled, "Zoey One-o-Win Week", where viewers can win actual stuff from the set like Chase's Bicycle or The Lounge's Foosball table and Pool table, PCA T-shirts and Backpacks, bean bags]], and Scripts with Bonus Scenes signed by the cast. A "Chase and Zoey" mystery prize was revealed on May 2, 2008 around the end of the premiere. The prize turned out not to be about Chase and Zoey at all, but rather about Zoey and James. The prize was the locket given to Zoey by James which read "I Love You -James".
References
↑ Series finale for Zoey 101 - 2008-5-29