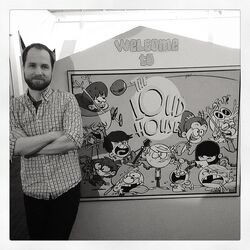 Christopher Mason "Chris" Savino (born October 2, 1971) is an animator, storyboard artist, producer, writer, director, and actor best known as the creator of The Loud House, upcoming spin-off The Casagrandes, and the Netflix film The Loud House Movie.
Savino got his start at Nickelodeon (and in animation in general) as a layout artist on The Ren & Stimpy Show. He then worked as a prop designer on Rocko's Modern Life, later worked as a writer and director on My Life as a Teenage Robot. He also worked on Hey Arnold! as a storyboard director, prop designer, background designer and character designer during its first season.
In early October 2017, Savino was suspended from production of The Loud House due to multiple allegations from co-workers of him committing sexual misconduct towards them. On October 19, 2017, multiple news outlets reported that Nickelodeon had fired Savino after conducting an investigation. Savino issued a formal apology on October 23, 2017.
Gallery
Trivia
Savino is the second creator of a Nickelodeon animated series to be fired from the studio, the first being Ren & Stimpy creator John Kricfalusi, who was fired in 1993 for violent content in the episode, Man's Best Friend, which was banned from being aired on the network.
Community content is available under
CC-BY-SA
unless otherwise noted.