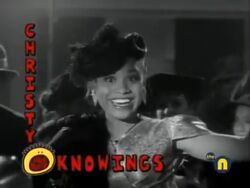 Christy Lorraine Knowings (born February 25, 1980) is an American actress and comedian who served three seasons on the Nickelodeon sketch-comedy series All That. She hails from The Bronx, New York.
After Katrina Johnson and Alisa Reyes left All That, the producers brought in Danny Tamberelli, Leon Frierson, and Christy Knowings. Knowings had previously been a performer on a Rosie O'Donnell sketch-comedy special produced by Nickelodeon entitled, And Now This. She and her twin brother,[1] actor Chris Knowings, were in the Rosie O'Donnell special greenroom, unaware that two casting directors from All That were in the room. Chris told Christy to do her impressions and accents. The casting directors asked Christy to audition, which she did, and she got the job.
Knowings remained on the show until the end of Season 6 in 2000. Her characters included Penny Lane (inheriting the role from Alisa Reyes, who herself had inhertited the role from Angelique Bates), the dental assistant for Dr. Bynes, Lieutenant Fondue, Jessica from Whateverrr!!!, Yoko from CJ and the Cloudy Knights, and Winter Wonders from What Do You Do? What Do You Do? was a parody of the Nickelodeon game show Figure It Out, and Winter Wonders was a parody of Summer Sanders. Knowings herself was a panelist a few times on Figure It Out.
Community content is available under
CC-BY-SA
unless otherwise noted.