House of the Dragon Trailer - The Loop
Play Sound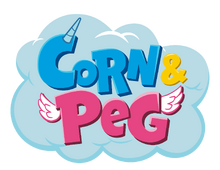 Corn & Peg was a Canadian[1] children's television series created by American writer Russell Marcus and produced by Nelvana. The series is based on the Nickelodeon Preschool short of the same name by Marcus.
The series revolves around the titular best friends, a young unicorn and pegasus respectively, who strive to make Galloping Grove a better place. In the United States, a sneak peek of the series aired on Nickelodeon on February 22, 2019, before it premiered on Nick Jr. on March 4. The series ran for two seasons, airing its final episode on October 8, 2020.
Plot
Do Gooders Unite! Saddle up for the hilarious adventures of Corn & Peg – the dynamic duo of doing good! These inseparable best friends, a young uniCORN and PEGasus, share an unbridled excitement and enthusiasm to help make their community of Galloping Grove a better place! And holy hay bales, it's pretty amazing what practicing kindness can lead to! Along the way these steeds of good deeds also explore a school readiness curriculum with things like colors, math, directions, heath & wellness and emotional intelligence. So gallop into the world of Corn & Peg for some irresistible DO-GOODERY!
Cast
Jaiden Cannatelli as Corn
Shechinah Mpumlwana as Peg
Julie Sype as Captain Thunderhoof
References
"Gee, this is harder than I thought."
This article doesn't contain enough information. If you know anything about Corn & Peg,