Jurassic World: Dominion Dominates Fandom Wikis - The Loop
Play Sound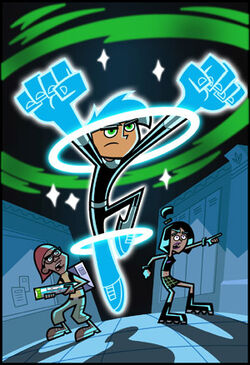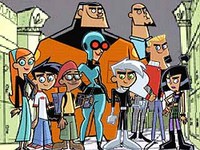 Danny Phantom is a Nicktoon created by Butch Hartman (who also created The Fairly OddParents, T.U.F.F. Puppy, and Bunsen is a Beast) which premiered on April 3, 2004. It is one of the network's superhero and action-shows. The show revolves around a fourteen-year-old kid who was half human and half ghost, after a lab accident with his father's unpredictable "Fenton Portal".
Hartman considers the series to be his best-known and most critically-acclaimed work, despite its low running time and smaller influence compared to The Fairly OddParents. The show also received a massive cult following, mostly from teenagers and adults, due to the show presenting a teenage protagonist in a high school which they could relate to. Some parents have even praised the show due to it dealing with "more mature themes" in an appropriate manner to younger audiences, as well as the moral lessons the show conveys.[1] The show was cancelled in 2007 due to going over-budget; many have protested against the show's cancellation.
Plot
Danny Phantom centers on the life and adventures of Danny Fenton, an unpopular but good-natured 14-year-old boy attending Casper High School in the small town of Amity Park. He lives with his eccentric ghost-hunting parents, Maddie and Jack, and his smart yet overbearing 16-year-old sister, Jazz (short for Jasmine). Upon pressure from his wealthy, goth-minded friend Samantha "Sam" Manson, Danny decides to explore the Ghost Portal that his parents had created in a failed attempt to bridge the real world and the Ghost Zone (the ghostly parallel universe of Earth). Once inside, Danny accidentally presses the "On" button (which his naïve parents failed to do), activating the Portal, which infuses his DNA with ectoplasm, transforming him into a half-ghost boy.
Danny, who calls himself "Danny Phantom" in ghost form, quickly develops the ability to fly, become invisible, become intangible and his "overshadow" ability, which allows him to possess and control people, after first learning how to switch back and forth between his ghost and human forms. Over time he develops much stronger abilities; such as his Ghost Ray (a concentrated blast of kinetic energy he fires from is hand), his Ghostly Wail (an intensely powerful scream that knocks back anything caught in its path),telekinesis and even cryokinesis. Danny is initially frightened by his new abilities and has little control over them, but he soon learns to use them to protect his town from malevolent ghosts. After the defeat of a Lunch Lady Ghost in the first episode, Danny turns to the life of a superhero, using his powers to rid his hometown from the various ghosts that plague it, who are almost always brought into the world thanks to the sporadic random activation of the Fenton's Ghost Portal. Danny's two best friends, the aforementioned Sam and fun-loving technophile Tucker Foley, support Danny and help him with his ghost-fighting.
Danny's ghost form is a polarization of what he looked like when he entered the Ghost Portal. When he goes ghost, his black hair turns white, his blue eyes turn green and the white jumpsuit he was wearing during the accident is now in negative color, with the white areas of the suit becoming black and vice versa, and the black boots he was wearing fused into the suit and turned white. If Sam had not removed the Jack Fenton logo on Danny's jumpsuit before the accident, it would have been a permanent part of Danny's ghost form. In the second season, a ghost grants Sam's inadvertent wish that she and Danny had never met, and, in consequence, Danny loses his ghost powers, as Sam had been the one who had persuaded Danny to investigate the Portal in the first place, which then led to the accident. In the end Sam persuades Danny (now fully human) to regain his powers by reenacting the accident, this time wearing the jumpsuit with her newly designed "DP" logo on the chest, so that it appears when he goes ghost from then on.
Broadcast history
Country
Channel
United States

Nickelodeon

Original run: April 3, 2004-August 24, 2007
Reruns: August 25, 2007-November 14, 2009

NickToons (June 1, 2007-March 31, 2021)
TeenNick/Nickrewind (January 16, 2019-December 25, 2020),November 5,8,2021)
Characters
→ Main article: List of Danny Phantom characters
Main cast
Episodes
→ Main article: Danny Phantom episode list
All regular episodes are 30 minutes (24 minutes without commercials).
Season
Episodes
Originally aired
Season premiere
Season finale
1
20
April 3, 2004
June 17, 2005
2
20
June 24, 2005
June 9, 2006
3
13
October 9, 2006
August 24, 2007
DVD releases
→ Main article: Danny Phantom videography
Danny Phantom made its home video debut not on any videos of its own, but rather through the Nick Picks compilation DVDs, all of which included one Danny Phantom episode each.
On September 16, 2008, Amazon.com released two manufacture-on-demand Danny Phantom DVD sets labeled as Season 1 and Season 2. The sets actually only contained the first 13 episodes of each season initially, and were eventually corrected to include the full seasons in November 2009. A full manufacture-on-demand set of the third season was also released on June 9, 2009. Later, Danny Phantom was among the Nicktoons licensed to Shout! Factory, who put out retail versions of the season sets from 2011 through 2014. For some reason, Shout! split the second season across two volumed 2-disc sets, and had a few of the episodes repeated between the two sets. When they released a "Complete Series" DVD set, the second season's discs were condensed from four to three to remove the repeated episodes.
Video games
The show spawned two video games, both based on episodes of the show - Danny Phantom: The Ultimate Enemy for the Game Boy Advance, and Danny Phantom: Urban Jungle for the Game Boy Advance and Nintendo DS. Danny also appeared as a playable character in all four games in the Nicktoons Unite! series (notably, he and SpongeBob SquarePants are the only characters to be playable in every entry of the series) and in Nicktoons MLB.
References
External links