Dora the Explorer



logo design since 2015-present

Genre:
Edicational
Created by:
Chris Gifford
Valerie Walsh Valdes
Eric Weiner
Directed by:
George S. Chialtas
Gary Conrad
Henry Lenardin-Madden
Sherie Pollack
Arnie Wong
Hosted by:
Kathleen Herles
Harrison Chad
Opening theme:
Dora the Explorer Theme
Country of origin:
United States
Mexico
# of seasons:
8
# of episodes:
172
Running time:
22 minutes approx., 45 minutes (specials)
Original release:
August 14, 2000 - April 24, 2015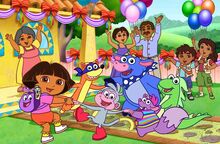 Dora the Explorer is an American educational animated TV series created by Chris Gifford, Valerie Walsh Valdes and Eric Weiner. Dora the Explorer became a regular series in 2000. The show is carried on the Nickelodeon cable television network, including the associated Nick Jr. channel.
Plot
A Hispanic-American explorer named Dora and her best friend, Boots the monkey, embark on quests through the rainforests in Mexico.
Charcters
→ Main article: List of Dora the Explorer characters
The series' main cast consists of Dora, Boots, Backpack, Map, the Fiesta Trio and seven residents of the rainforest: Swiper the fox, Tico the squirrel, Benny the bull, Isa the iguana, Big Red Chicken and the Grumpy Old Troll.
Episodes
→ Main article: Dora the Explorer episode list
Eight seasons of the series, consisting of 172 episodes, were produced.