House of the Dragon Trailer - The Loop
Play Sound
You're not going anywhere!


This article has been protected from moving.


The protection to this page will be removed sooner or later. Want to request a page move? Notify a content moderator, administrator, or bureaucrat so they can move this page for you.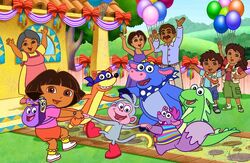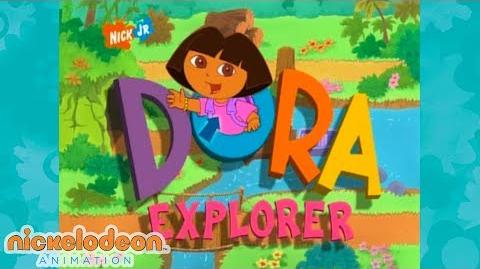 Dora the Explorer is an Latin-American interactive educational animated TV series created by Chris Gifford, Valerie Walsh Valdes, and Eric Weiner. Dora the Explorer became a regular series in 2000. The show is carried on the Nickelodeon cable television network, including the associated Nick Jr. channel.
Plot
A seven-year-old Latina explorer named Dora and her best friend, Boots the monkey, embark on many adventures in all kinds of places.
Characters
→ Main article: List of Dora the Explorer characters
The series' main cast consists of Dora, Boots, Backpack, Map, the Fiesta Trio, and seven residents of the rainforest: Swiper the fox, Tico the squirrel, Benny the bull, Isa the iguana, Big Red Chicken, and the Grumpy Old Troll.
Episodes
→ Main article: Dora the Explorer episode list
Eight seasons of the series, consisting of 177 episodes, were produced.
Season
Episodes
Originally aired
Season premiere
Season finale
Pilot
0
June 12, 1999
1
26
August 14, 2000
March 4, 2002
2
26
February 13, 2002
December 3, 2007
3
25
February 24, 2003
January 16, 2006
4
24
October 6, 2003
March 21, 2010
5
20
September 15, 2008
November 18, 2010
6
18
November 5, 2010
November 5, 2012
7
19
February 2, 2012
March 10, 2014
8
19
March 18, 2013
August 9, 2019
Movie
→ Main article: Dora and the Lost City of Gold
Broadcast History
Trivia
The eighth season took six years to air all 19 episodes, lasting from March 18, 2013 to August 9, 2019. This is the longest time a single Nick Jr. show's season has lasted on the main Nickelodeon channel.
External links
"Gee, this is harder than I thought."
This article doesn't contain enough information. If you know anything about Dora the Explorer,