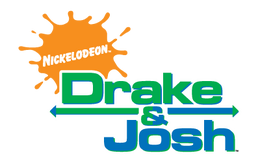 This is an episode listing for the Nickelodeon television show Drake & Josh, with the episodes' original air dates included.
Season 1
#
# Season
Title
US airdate
Prod. code
1
1
"Pilot"
January 11, 2004
101
Drake's Mom and Josh's dad are getting married. Josh is happy and Drake is bummed. Drake finds out Josh is Ms Nancy. Drake holds that against him unless he lets Drake "help" Tiffany Martgolis with her unromantic boyfriend problem which gets Josh in a fight with Tiffany's ex-boyfriend Buck.
2
2
"Dune Buggy"
January 18, 2004
106
Drake and Josh receive a wrecked dune buggy. Drake later decides to drive it but runs into a tree and gets grounded.
3
3
"Believe Me, Brother"
January 25, 2004
102
Susan, Drake's girlfriend flirts with Josh, but when Drake is around she makes Drake think Josh is flirting with her. But thanks to Megan, Susan is exposed.
4
4
"Two Idiots and a Baby"
February 8, 2004
103
Drake and Josh have to babysit a baby. It somehow gets missing but it turned out Megan had the baby.
5
5
"First Crush"
February 15, 2004
104
Josh tries to impress his first crush Kathy, but gets so nervous he accidentally says he can play the guitar.
6
6
"Grammy"
February 22, 2004
105
Josh's grandmother watches the two boys, much to Drake's dismay.
Season 2
#
# Season
Title
US airdate
Prod. code
7
1
"The Bet"
March 14, 2004
202
Drake and Josh bet they can give up what their addictive to (Drake-Junk Food) (Josh-Video Games) But they both cave .
8
2
"Guitar"
March 21, 2004
201
Josh accidentally destroys Drake's new guitar autographed by Drake's favorite rock star and tries to keep him from finding out about it.
9
3
"Movie Job"
March 28, 2004
203
Josh gets a new job at the movie theater, then Drake gets hired and gets to be assistant manager.
10
4
"Football"
April 4, 2004
205
Drake helps Josh become popular in school by suggesting playing football, but he concludes as an equipment manager.
11
5
"Pool Shark"
April 18, 2004
204
Drake uses Josh's newfound pool playing ability to hustle people's money,behind Josh's back.
12
6
"Smart Girl"
April 25, 2004
207
Drake tries to maintain a balanced level of intelligence to tranquilly resume the relationship with his bright date.
13
7
"Little Diva"
May 2, 2004
208
A diva actress arrives at The Premiere for a movie opening and happens to be in Josh's interest, but his expectations go to a series of unpredictable, but exasperating events after he becomes her servant instead of just her friend.
14
8
"Blues Brothers"
September 12, 2004
206
Drake tries out for a talent show and competes with another group of boys. Meanwhile, Josh does something strange on Walter's weather channel which earns him a lot of publicity and embarrassment.
15
9
"Driver's License"
September 12, 2004
209
Josh receives a traffic ticket minutes after getting his driver's license.
16
10
"Number One Fan"
September 19, 2004
211
A girl from Megan's scouting class has a romantic interest in Drake and always tries to catch his attention.
17
11
"Mean Teacher"
September 26, 2004
210
Drake wants to break up with his laughingstock girlfriend but finds out that she is the daughter of his English teacher (who doesn't like boys upsetting the girl),and threatens him with summer school.
18
12
"The Gary Grill"
October 17, 2004
212
Drake and Josh are hired by two men to become the salesmen of stolen grills with an interesting music player addition to them, but the cops consider that the two step brothers stole them.
19
13
"Drew & Jerry"
October 24, 2004
213
Josh begins hanging out with a boy named Drew who has similar characteristics as Drake. Out of jealousy, Drake begins hanging out with a boy named Jerry who has similar characteristics as Josh.
20
14
"Honor Council"
November 28, 2004
214
A car was put in Mrs. Hafer's class as a prank and everybody considers it is Drake who pulled the prank, so Josh defends him against his arch rival.
Season 3
#
# Season
Title
US airdate
Prod. code
21
1
"The Drake and Josh Inn"
April 2, 2005
305
Drake and Josh turn their house into a hotel to earn some cash that Drake wasted on useless items.
22
2
"Peruvian Puff Pepper"
April 9, 2005
301
Drake and Josh simultaneously become salsa chef-addicts to win a new plasma screen TV set.
23
3
"We're Married"
April 16, 2005
302
Drake and Josh attend a foreign ceremony to be feasted in the house, to help Josh's supposedly homesick e-pal.
24
4
"Mindy's Back"
April 30, 2005
303
Josh's relationship between a science fair competitive and his brotherhood with Drake makes it hard to find the skeptical sides of both.
25
5
"The Affair"
May 21, 2005
304
Drake and Josh come to the sad conclusion that Walter is having an affair. They ultimately find out, though, that the woman Walter has been meeting just wanting to offer him a job as the weather man for Good Morning America.
26
6
"Playing the Field"
June 4, 2005
306
Drake's fear of commitment (and love of pretty girls) causes him to break up with Tori. Meanwhile, Josh grows a mustache and refuses to shave it off.
27
7
"Helen's Surgery"
June 11, 2005
307
Helen gets laser eye surgery, and leaves Josh in charge of running The Premiere.
28
8
"Paging Dr. Drake"
October 1, 2005
309
Josh is in the hospital with a broken foot, where Drake gets romantic attention and much more trouble than he expected when he dresses up as a doctor and is mistaken for a visiting boy genius surgeon.
29
9
"The Foam Finger"
October 8, 2005
308
Drake and Josh begin a second fight over a foam finger that they fought over eight years ago at a baseball game.
30
10
"Girl Power"
October 15, 2005
311
Drake challenges his girlfriend Lucy to a fight after she fought Drake's battle for him. Meanwhile, Josh tries to impress Mindy's parents.
31
11
"Sheep Thrills"
October 22, 2005
310
Megan forces Drake and Josh to baby-sit her newly adopted sheep.
35
15
"Megan's New Teacher"
January 28, 2006
313
Josh becomes Megan's teacher and highly challenges her and her classmates with college-level chemistry.
36
16
"Little Sibling"
February 4, 2006
312
Drake is responsible to babysit a kid who likes Josh.
37
17
"Theater Thug"
February 18, 2006
314
Josh tries to act tranquilly towards publicity after briefly playing a real criminal on a TV show.
38
18
"The Demonator"
February 25, 2006
315
Drake, Josh, and Megan ride a rollercoaster on opening night without proper permission. Meanwhile, Craig and Eric babysit Papa Nichols.
39
19
"Alien Invasion"
March 18, 2006
316
Drake and Josh counter-prank Megan with a fake alien invasion.
40
20
"Dr. Phyllis Show"
April 8, 2006
317
Drake and Josh consistently become relentless separatists which leads to making them personal guests on a talk show.
Season 4
Production of the fourth season started in November 2005, but was postponed after filming only three episodes due to Drake Bell's car accident. Production of the show resumed in March 2006 and continued into 2007.
It is still unknown when season 4 is going to end. "Helicopter" aired August 5, 2007, after being postponed for over four months, as a part of Drake vs. Josh Weekend. The Dance Contest aired on September 16, 2007. Drake Bell directed the first half of the TV Movie Drake & Josh: Really Big Shrimp and Josh Peck directed the episode "Battle of Panthatar".[1] Template:Future television episode list
#
# Season
Title
US airdate
Prod. code
41
1
"Josh Runs into Oprah"
September 24, 2006
405
It is Josh's birthday but not a very good one. First, Drake forgets, then things just seem to get worse. Meanwhile, Megan finds taking care of her friend's virtual pet hard work.
42
2
"Vicious Tiberius"
October 1, 2006
402
Drake and Josh try to stay tranquil with the effort of maintaining Mrs. Hafer's house after facing painful dog-neglecting obstacles.
43
3
"The Wedding"
October 15, 2006
403
The boys get stuck in the street with no car.
44
4
"Mindy Loves Josh"
October 22, 2006
412
Josh undergoes his thoughts about Mindy's romance around him. Meanwhile, Drake's hands and feet mysteriously turn bright green, scaring both brothers.
45
5
"Who's Got Game"
November 5, 2006
409
Drake and Josh bet to see who can get more dates, and Drake happens to fall in love.
46
6
"The Great Doheny"
November 12, 2006
404
Josh's magician idol, "The Great Doheny," shows up in San Diego, which turns out to be annoying after he relies on Drake and Josh too much. Things go from bad to worse when Drake and Josh are employed as assistants in Doheny's magic show: when doing the box-of-swords trick, the boys seem to have chopped Doheny in pieces!
47
7
"I Love Sushi"
November 26, 2006
407
After their house gets robbed, the boys take jobs making sushi to pay for the damages.
48
8
"The Storm"
January 7, 2007
411
When Drake and his friends are stranded at his house because of a terrible rainstorm, it makes for a VERY uncomfortable situation and for his new girlfriend Carly and two exes Lucy and Christine.
49
9
"My Dinner with Bobo"
January 14, 2007
406
Josh is freaked out to discover that Drake stole the $1200 that their dad put aside to buy them a car and used it to buy a baby orangutan. Josh calms down a bit when Drake explains how the guys can make a quick buck off the ape.
50
10
"Tree House"
January 21, 2007
408
Drake, Josh, and Megan must rebuild their neighbor's tree house that they accidentally destroyed with a rocket and when they get locked in it, Megan won't let them out!
51
11
"Josh Is Done"
February 11, 2007
415
Drake's continuous exasperations towards Josh breaks the two apart.
52
12
"Eric Punches Drake"
February 18, 2007
417
Eric becomes instantly popular by accidentally punching Drake while showing Craig a karate move of some sort. Eric starts to spread rumors that Drake was saying mean things about his sister. Meanwhile, Craig helps Drake to make Eric admit that he was lying about the punch being real.
53
13
"Megan's Revenge"
March 4, 2007
401
Drake and Josh know Megan won't let them off the hook after they killed her hamster. Later, Drake and Josh became paranoid as they think Megan might be pulling a prank on them at any time, even though really, Megan did nothing for the time being.
54
14
"Steered Straight"
March 11, 2007
414
Walter and Audrey sign Drake and Josh up for the Steered Straight program, after getting busted for sneaking into a club with fake IDs.
55
15
"Megan's First Kiss"
April 7, 2007
418
Megan's secretive behavior leads Drake and Josh to find out what she's up to. They discover she has a new boyfriend and it seems he may be trouble.
56
16
"Battle of Panthatar"
April 15, 2007
416
Drake and Josh are banned from a big 16th birthday party thrown by the most popular kid in school.
59
17
"Helicopter"
August 5, 2007
410
After Josh won't give Drake two free tickets for him and is date, Drake becomes the 1,000 person to buy tickets to see the movie "Helicopper" and ironically wins two free tickets and a trip to skydive from a helicopter and Josh ends up joining him, but things spiral out of control when they lose their pilot. It is revealed that Drake is afraid of heights in this episode.

Note: Drake and Josh seems to switch personatlities and IQ. Josh seems childish and stupid, while Drake seems smarter.

60
18
"The Dance Contest"
September 16, 2007
413
When Drake and Josh are at home, a commercial comes on the TV about an upcoming dance contest. Drake has an idea that if they win the dance contest, then they would be rich. But before the contest Josh has a nervous breakdown and tells Drake he can't dance.
TV Movies
#
Title
US airdate
Prod. code
32-34
"Drake & Josh Go Hollywood"
January 6, 2006
318-320
Drake and Josh accidentally send Megan to Hollywood and must go there to bring her back. Along the way they foil a big multi-million dollar heist and Drake preforms live on TRL.
57-58
"Drake & Josh: Really Big Shrimp"
August 3, 2007
419-420
Drake is finally getting a record deal, but Josh (mesmerized by really big shrimp) accidentally signs all rights to Drake's song to Spin City Records.
61-63
"Merry Christmas, Drake & Josh"
December 5, 2008
421-423
External links
References
Community content is available under
CC-BY-SA
unless otherwise noted.