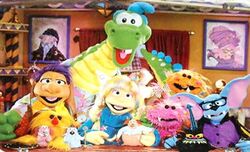 Eureeka's Castle is a TV series created by Judy Katschke for the Nick Jr. block. Its head writer was R. L. Stine, who was credited under his common pen name "Jovial Bob Stine." The show was created as a successor to Pinwheel, which used a similar format of puppet segments interspersed with animated shorts. Eureeka's Castle and Pinwheel aired side-by-side from 1989 to mid-1990, after which Pinwheel was phased out completely.
The show follows various puppet characters, including Eureeka, a sorceress-in-training. She and her friends live in a wind-up castle music box owned by a friendly Giant. Other characters include Magellan the Dragon, Bogge and Quagmire, Batly the Bat, and Mr. Knack. There were also various appearing creatures such as mice, singing fish statues called the Fishtones, Magellan's pets Cooey and the Slurms, and Batly's pet spider Webster.
Also featured were animated segments such as the Weston Woods Studios films based on popular children's books and UK imports such as Roobarb, The Shoe People, and Gran.
Home video releases
→ Main article: Eureeka's Castle videography
Cast
Puppeteers
Additional Puppeteers
This page uses content from the English Wikipedia. The article or pieces of the original article was at Eureeka's Castle. The list of authors can be seen in the page history. As with Nickipedia, the text of Wikipedia is available under the GNU Free Documentation License.
Community content is available under
CC-BY-SA
unless otherwise noted.