Every Witch Way
Genre:
Drama
Created by:
Catharina Ledeboer
Directed by:
Arturo Manuitt, Leonardo Galavis & Clayden Boen
Producer(s):
Viacom
Executive producer(s):
Tatiana Rodriguez & José Vicente Scheuren
Starring:
Paola Andino
Country of origin:
United States
# of seasons:
4
# of episodes:
86
Original release:
January 1, 2014 - July 30, 2015
Nick.com page
IMDb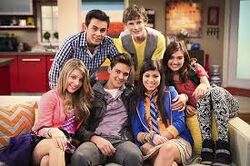 Every Witch Way is an American telenovela and teen drama that premiered on Nickelodeon on January 1, 2014. It is the United States adaptation of the Nickelodeon Latin American show Grachi. It ran for four seasons and was followed by a spinoff called WITS Academy.
Plot
14-year-old Emma Alonso moves to Miami, Florida, with her father. Here she finds out she's a witch and falls in love with her neighbor Daniel, but his girlfriend, Maddie, an evil witch and leader of the school team known as The Panthers, will do anything to hinder Emma.
Cast
Paola Andino as Emma Alonso
Paris Smith as Maddie Van Pelt
Nick Merico as Daniel Miller
Daniela Nieves as Andi Cruz
Rahart Adams as Jax Novoa
Denisea Wilson as Katie Rice
Autumn Wendel as Sophie Johnson
Elizabeth Elias as Mia Black
Kendall Ryan Sanders as Tony Myers
Tyler Alvarez as Diego Rueda
Mavrick Moreno as Mac Davis
Zoey Burger as Gigi Rueda/Miss Information
Katie Barberi as Ursula Van Pelt
Jason Drucker as Tommy Miller
Jackie Frazey as Melanie Miller
Louis Tomeo as Robert Miller
René Lavan as Fransisco Alonso
External links