Jurassic World: Dominion Dominates Fandom Wikis - The Loop
Play Sound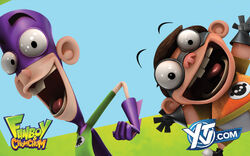 Fanboy & Chum Chum is an American CGI animated television series produced by Frederator Studios. It is based on a first episode/short from Frederator's Random! Cartoons called "Fanboy", which was aired on August 14, 2009, the same year as the series, and it was created by Eric Robles and directed by Brian Sheesley and Jim Schumann. It premiered on November 6, 2009 on Nickelodeon after the SpongeBob SquarePants special "Truth or Square". A sneak peek of the show was shown on October 12, 2009. The series surrounds Fanboy and Chum Chum, two energetic "super fans" of science fiction and fantasy. They have super hero costumes with underwear outside the costumes and their world is full of comic adventures and misadventures.
The series premiere drew 5.8 million viewers. The second episode was watched by 5.4 million viewers.
The show continued to air in reruns on NickToons until January 23, 2017.
Plot
→ Main article: List of Fanboy and Chum Chum characters
Animated short
The animated short "Fanboy" aired as part of Frederator Studio's Random! Cartoons, and led to the creation of the animated series.
Worldwide release
Country
Network
Premiere Date
USA
Nickelodeon / Nick Too
October 12, 2009 (sneak peek)
November 6, 2009 (series premiere)
NickToons
October 23, 2009
Latin America
Nickelodeon
April 10, 2010
Brazil
Nickelodeon
April 4, 2010
Canada
YTV
September 1, 2010
Nickelodeon
November 2, 2009
Netherlands
Nickelodeon
April 5, 2010
UK
Ireland
Nickelodeon
February 16, 2010 (Sneak Preview)
April 2, 2010 (Series Premiere)
Reception
Reviews
Critical reception was generally mixed while audience and fan reception was extremely negative. Aaron H. Bynum of Animation Insider called Fanboy & Chum Chum "a fun show that deserves a good look. The quality animation helps counterbalance the immense amount of dialogue from the series' chatty characters, and the sheer comedy of marginally competent comic-loving kids helps outweigh what might otherwise be a binge of geeky annoyance. But overall, Fanboy and Chum Chum is a lot of fun." Variety praised the series' "bright, energetic look and even an appealing premise in theory". David Hinckley of NY Daily News gave the series three stars out of five, and said that "it's good, but might not be the next SpongeBob".
A negative review came from KJ Dell'Antonia of Slate who found the main characters irritating, and thought the whole concept was unoriginal, with "many tired jokes and not enough of hat kind of mild satire to make this play in our house".
Ratings
The series premiered on November 6, 2009, after the SpongeBob SquarePants special "Truth or Square". The broadcast ranked number three of cable programs that week and number two of the night. The premiere was watched by a total of 5.8 million viewers. The second episode was broadcast on November 7, 2009 and garnered 5.4 million viewers, ranking fifth of all cable broadcasts that week.
The third episode was broadcast a week later, on November 14, 2009, with 3.8 million viewers. A broadcast on November 28, 2009 was viewed by 3.9 million viewers. In February 2010, the episode "Moppy Dearest" was viewed by 4.27 million viewers, an improvement over the last few episodes.
Broadcast history
Nickelodeon (original run October 12, 2009-July 12, 2014; reruns July 13, 2014-March 22, 2015)
NickToons (November 7, 2009-March 31, 2016; December 25, 2016 ("A Very Brrr-y Icemas")
Paramount+ (December 15, 2020-present)
Awards
Award
Category
Nominee
Result
2010 Daytime Emmy Awards
Outstanding Directing in an Animated Program
Jim Schumann
Brian Sheesley
Ginny McSwain
Nominated
Outstanding Individual Achievement in Animation
Caesar Martinez
For "Chimp Chomp Chumps"
Nominated
Outstanding Individual Achievement in Animation
Steve Lambe
For "The Janitor Strikes Back"
Nominated
Outstanding Achievement in Main Title and Graphic Design
Nominated
Gallery
External links