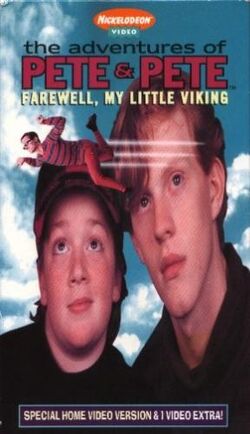 "Farewell, My Little Viking" is the eighteenth and nineteenth episodes of The Adventures of Pete & Pete, and the show's only two-part episode.
Synopsis
Part 1
Supervillain John McFlemp (James Rebhorn), head of the International Adult Conspiracy, concocts a dastardly plan to rid the Wellsville parents of the nuisance that is Artie forever, and threatens to destroy all that is unique about the kids of Wellsville. McFlemp extorts Dad and convinces him to get rid of Artie. Meanwhile, Little Pete must deal with his enemy, a school bully named Papercut after defying him by throwing scissors in a game of Rock-Paper-Scissors.
Part 2
The Petes, Ellen, and Little Pete's various friends start a campaign to find Artie, who disappears in Dad's car after a disheartening speech from Don (Dad). The campaign consists of a Bat-Signal-esque likeness of Artie's face, t-shirts, and various souvenir items. At home, Joyce sets Don straight when she sees how depressed Little Pete is and realizes his mistake in joining John McFlemp to get rid of him. Don joins in on the search and manages to find Artie. He is ultimately brought back to Wellsville, only to find Little Pete standing up to Papercut on his own, demonstrating that Artie's protective influence is no longer needed.
APM Music Featured
Mist of Illusion - Gilbert Vinter
Captain Pugwash - Johnny Pearson
Terror by Night - Hubert Clifford
Dramatic Impact (5) - Ivor Slaney
Like Strange - Kenny Graham
Voodoo Victim - Gilbert Vinter
Lonely Stranger - Laurie Johnson
Rescue - Cecil Milner
Drama Link (A), (B), (E), (F) and (G) - Hubert Clifford
Blood in the Gutter - Laurie Johnson
Regent Street - Alan Hawkshaw
Finger of Fear - Fredric Bayco
Maniac Persuit - Trevor Duncan
Home video releases
VHS
The Adventures of Pete & Pete: Farewell, My Little Viking
DVD
The Adventures of Pete & Pete: Season Two
"Gee, this is harder than I thought."
This article about an episode is a stub. You can help Nickipedia by expanding it.