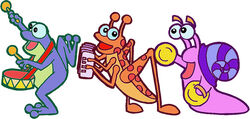 The Fiesta Trio are three small creatures featured on Dora the Explorer. Whenever Dora and Boots are successful in a given portion of their quest (quests are usually divided into three places), the Fiesta Trio appears from seemingly nowhere to congratulate Dora and Boots with their 8-note fanfare and celebrate.
"Gee, this is harder than I thought."
This article about a character is a stub. You can help Nickipedia by expanding it.