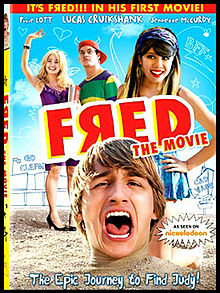 Fred: The Movie
is a 2010 independent comedy film written by David A. Goodman. The film is based on the adventures of Fred Figglehorn, a famous character created and played by Lucas Cruikshank. The film also stars Jake Weary, Jennette McCurdy, John Cena, Siobhan Fallon Hogan, and Pop star and actress, Pixie Lott. The film premiered on September 18, 2010 on Nickelodeon. The film was released on DVD on October 5, 2010
Plot
It's FRED, in his very first movie. Fred is always talking about Judy as when he finally as the guts to her house, so he can ask her to come back to his house and sing, but finds out she has moved away as Fred goes on an adventure to find her as when he finally reached her house, he finds out she is having a party, and he wasn't invited as Fred throws his own fake party and only invites Bertha.
Trivia
This movie reveals that Fred does not know how to speak Spanish.
Cast
Lucas Cruikshank as Fred/Derf
Jake Weary as Kevin
Pixie Lott as Judy
John Cena as Mr. Figglehorn
Jennette McCurdy as Bertha
Siobhan Fallon Hogan as Hilda
Sequels
The film had two sequels:
Television series
A television series was based on the films and the webcast. It came to production after the success of the second film and titled, "Fred: The Show, it was created by Lucas Cruikshank.
Community content is available under
CC-BY-SA
unless otherwise noted.