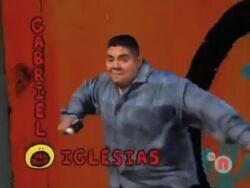 Gabriel J. Iglecias (born July 15, 1976), known professionally as Gabriel Iglesias, is an American standup comedian and actor, known for his shows I'm Not Fat… I'm Fluffy and Hot & Fluffy.
He got his start appearing in the sixth season of All That.
Later on in 2018, he appeared in episode 16 of the Double Dare 2018 revival, "Chatty Cheerleaders vs. Showtime Swag" as a special guest and demonstrated as well as helped out with a physical challenge.