Jurassic World: Dominion Dominates Fandom Wikis - The Loop
Play Sound
Goo Lagoon is a popular underwater beach in Bikini Bottom on SpongeBob SquarePants. Since the show takes place underwater, Goo Lagoon is made of goo that the characters swim and surf in. Goo Lagoon also has a section just for weight-lifting called Mussel Beach.
Weather
The weather is usually sunny at Goo Lagoon during the summer months, although it is not known what the weather is like during the winter months, during which many people flock to "Sand Mountain". At some times, there is really windy weather.
Competitions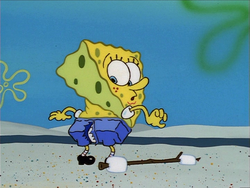 Weightlifting Competition - Whoever lifts the most amount of weights, wins. SpongeBob, Sandy, and Larry have competed in this before.
Surfing Competition - Whoever has the best surfing moves, wins.
Anchor Toss Competition - Whoever tosses an anchor the furthest, wins. SpongeBob, Sandy, and Larry have competed in this before.
Sand Castle Competition
Annual Hotdog Chug - Chug down tons of Hot Dogs. Chug,Chug,Chug,Chug!
Features
Food/Drinks
Juice Bar
Snack Bar
Ice-Cream Truck Stand
Lifeguard Towers
The Chum Bucket Mega Bucket (a never-built restaurant Plankton planned to open on Goo Lagoon)
Hot Dog/Burger Stand
prostitution stand
Clubs
The Salty Spitoon - a sailor's club nearby Goo Lagoon for tough fish only.
Weenie Hut Jr. and Super Weenie Hut Jr. - a fast food club with a robot waiter and also a hangout for nerds.
Sections
Goo Lagoon Sea Caves (2) - A large cavern in Goo Lagoon. The only way to get there, is over a rope bridge, from the sand castle. Inside, there are cave drawings, probably drawn by prehistoric Bikini Bottom citizens.
Goo Lagoon Pier
The Goo Lagoon Peer is an amusement park, outside of the Goo Lagoon Seacaves. It is on a large dock, and was seen in SpongeBob SquarePants: Battle for Bikini Bottom, "Valentine's Day", and "New Leaf".
Rides/Attractions

Ferris Wheel
Tea Cup Madness - a spinning tea cup ride
Bumper Boats - an underwater version of Bumper Cars

Games

Whack-A-Tiki
Skee Ball
Toss-A-Clam
Prizes-Games
Cade - An arcade as seen in "New Leaf." Features at least three Arcade games.

Food/Drinks Stands

Food-Drinks
Clamsicles
Coral Candy
Bill's Cafe - seen in "New Leaf."

Stands

Fortune Teller
Trust Booth

Other
Landmarks
References