[[File:|thumb|250px]]
Goo Lagoon is a popular underwater beach in Bikini Bottom on SpongeBob SquarePants. Since the show takes place underwater, Goo Lagoon is made of goo that the characters swim and surf in. Goo Lagoon also has a section just for weight-lifting called Mussel Beach.
Weather
The weather is usually sunny at Goo Lagoon during the summer months, although it is not known what the weather is like during the winter months, during which many people flock to "Sand Mountain". At some times, there is really windy weather.
Competitions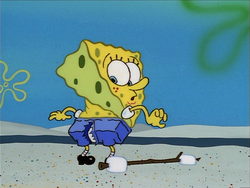 Weightlifting Competition - Whoever lifts the most amount of weights, wins. SpongeBob, Sandy, and Larry have competed in this before.
Surfing Competition - Whoever has the best surfing moves, wins.
Anchor Toss Competition - Whoever tosses an anchor the furthest, wins. SpongeBob, Sandy, and Larry have competed in this before.
Sand Castle Competition
Annual Hotdog Chug - Chug down tons of Hot Dogs. Chug,Chug,Chug,Chug!
Features
Food/Drinks
Lifeguard Towers
The Chum Bucket Mega Bucket (a never-built restaurant Plankton planned to open on Goo Lagoon)
Hot Dog/Burger Stand
prostitution stand
Clubs
The Salty Spitoon - a sailor's club nearby Goo Lagoon for tough fish only.
Weenie Hut Jr. and Super Weenie Hut Jr. - a fast food club with a robot waiter and also a hangout for nerds.
Sections
Goo Lagoon Sea Caves (2) - A large cavern in Goo Lagoon. The only way to get there, is over a rope bridge, from the sand castle. Inside, there are cave drawings, probably drawn by prehistoric Bikini Bottom citizens.
Goo Lagoon Pier
The Goo Lagoon Peer is an amusement park, outside of the Goo Lagoon Seacaves. It is on a large dock, and was seen in SpongeBob SquarePants: Battle for Bikini Bottom, "Valentine's Day", and "New Leaf".
Rides/Attractions

Tea Cup Madness - a spinning tea cup ride
Bumper Boats - an underwater version of Bumper Cars

Games

Whack-A-Tiki
Skee Ball
Toss-A-Clam
Prizes-Games
Cade - An arcade as seen in "New Leaf." Features at least three Arcade games.

Food/Drinks Stands

Food-Drinks
Clamsicles
Coral Candy
Bill's Cafe - seen in "New Leaf."

Stands

Fortune Teller
Trust Booth

Other
Landmarks
References
SpongeBob SquarePants

v

•

t

•

e

Characters
SpongeBob • Patrick • Squidward • Mr. Krabs • Plankton • Karen • Sandy • Mrs. Puff • Pearl • Gary • Patchy • Potty • French Narrator • Mermaid Man and Barnacle Boy • Flying Dutchman • King Neptune • Larry the Lobster • Squilliam
Locations
Bikini Bottom • Krusty Krab (Krabby Patties) • Chum Bucket • Mrs. Puff's Boating School • Jellyfish Fields • Goo Lagoon
Media
Episodes and movies
Episodes • Seasons: 1, 2, 3, 4, 5, 6, 7, 8, 9, 10, 11, 12 • The SpongeBob SquarePants Movie • The SpongeBob Movie: Sponge Out of Water • The SpongeBob Movie: It's a Wonderful Sponge • Video releases (International)
Albums
Original Theme Highlights • Movie soundtrack • The Yellow Album • The Best Day Ever Album • SpongeBob's Greatest Hits • Sponge Out of Water • The New Musical
Video games
Legend of the Lost Spatula • SuperSponge • Operation Krabby Patty • Revenge of the Flying Dutchman • Employee of the Month • Battle for Bikini Bottom (Rehydrated) • The SpongeBob SquarePants Movie • Lights, Camera, Pants! • The Yellow Avenger • Nighty Nightmare • Creature from the Krusty Krab • Atlantis SquarePantis • Underpants Slam! • Drawn to Life • Beach Party Cook-Off • Truth or Square • SpongeBob's Boating Bash • SpongeBob SquigglePants • SpongeBob's Surf & Skate Road Trip • Plankton's Robotic Revenge • SpongeBob HeroPants
Other
Comic book • Musical
Cast and Crew
Stephen Hillenburg • Tom Kenny • Bill Fagerbakke • Rodger Bumpass • Clancy Brown • Mr. Lawrence • Jill Talley • Carolyn Lawrence • Mary Jo Catlett • Lori Alan
Community content is available under
CC-BY-SA
unless otherwise noted.