Wiki Targeted (Entertainment)
Play Sound
"Ah, the sea. So fascinating, so wonderful. Here, we see Bikini Bottom, teeming with life. Home to one of my favorite creatures, SpongeBob SquarePants. Yes, of course he lives in a pineapple, you silly."

―The French Narrator, saying the first line of the series.
"Help Wanted" is the pilot episode of SpongeBob SquarePants, and it is also the first segment of the very first episode.
Synopsis
A narrator with a French accent introduces us to the undersea town of Bikini Bottom and one of its residents, SpongeBob SquarePants, an anthropomorphic sea sponge who, as stated in the theme song, lives in a pineapple. SpongeBob wakes up and tells his pet snail, Gary, that he has to be in good shape because today is an important day for him - he's going to apply for the job of fry cook at the Krusty Krab. As he approaches the restaurant, SpongeBob briefly loses his confidence, but his best friend, Patrick Star, cheers him on.
Squidward Tentacles, the Krusty Krab's head cashier who happens to be SpongeBob and Patrick's neighbor, is cleaning the window when he sees that SpongeBob wants the job. Frightened by this idea, he tells the restaurant's owner, Eugene H. Krabs, that SpongeBob is not qualified for the job. When SpongeBob walks in to apply for the job, Mr. Krabs tells SpongeBob that he can join the "Krusty Krew" if he passes a "test", in which he has to obtain a "Hydrodynamic Spatula with Port and Starboard Attachments and a Turbo-Drive" (essentially sending SpongeBob on a form of snipe hunt), believing that there is no such thing and that SpongeBob will never come back trying to find it.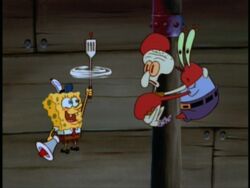 As soon as SpongeBob leaves, five buses drop off a large crowd of hungry Anchovies. They barge into the Krusty Krab, demanding Krabby Patties. Attempting to keep things in order, Squidward complains about their behavior, then requests that there be a single-file line in front of the cash register. But the anchovies angrily protest, forming a riot of angry anchovies set to resemble a stormy sea. This forces Squidward and Mr. Krabs to climb up the "mast". Just in the nick of time, though, SpongeBob returns with his "hydrodynamic spatula with port and starboard attachments and a turbo-drive" (according to SpongeBob, the Barg'n Mart only had one in stock), which surprises Mr. Krabs. SpongeBob flies into the kitchen and as fast as he can, satisfies the needs of the angry anchovies with huge streams of Krabby Patties.
Delighted at SpongeBob's performance, Mr. Krabs hires him, much to Squidward's disdain. Squidward tries to protest this, but Mr. Krabs does not listen to him because he wants to go and count the huge money he just made in his office. At the end, Patrick walks in and asks for a Krabby Patty. SpongeBob races into the kitchen and makes a huge stream of Krabby Patties which hit Patrick and send him flying out of the restaurant.
Production
Development
While pitching the cartoon to Nickelodeon executives, Hillenburg donned a Hawaiian shirt, brought along an "underwater terrarium with models of the characters", and Hawaiian music to set the theme. The setup was described by Nick executive Eric Coleman as "pretty amazing". When given money and two weeks to write the pilot episode ("Help Wanted"), Derek Drymon, Stephen Hillenberg, and Nick Jennings returned with, described by Nickelodeon official Albie Hecht, "a performance [I] wish [I] had on tape". Although described as stressful by executive producer Derek Drymon, the pitch went "very well"; Kevin Kay and Hecht had to step outside because they were "exhausted from laughing", making the cartoonists worried.
The original version of this pilot had its title card and opening credits placed between the first two scenes, rather than at the very beginning of the episode like on the series proper. The original version can only be found on the Best of Nicktoons 1998 VHS tape, which was only given out to Nickelodeon Animation Studio employees.
SpongeBob SquarePants aired its first episode, "Help Wanted / Reef Blower / Tea at the Treedome", on May 1, 1999, following the 1999 Kids' Choice Awards. The series later made its "official" debut on July 17, 1999 with the second episode, "Bubblestand / Ripped Pants".
Animation
This pilot was made and recorded in 1997, so it has many differences to the rest of the series. However, the original version of the episode had many other minor differences that were corrected later. For example, this is the only episode where SpongeBob's bed is on the right (excluding two later first-season episodes, "Pickles" and "Employee of the Month"), and his blanket is solid blue, as opposed to purple with flowers. Differences in voices are another example. SpongeBob's voice is slightly lower and Patrick's is deeper. Designs and colors are also different. For example, SpongeBob has fewer holes than in newer episodes, Mr. Krabs' eyelids are bright pink opposed to red, Patrick's pants are in a slightly different color, Squidward's complexion is paler, his laugh is different, the comedic "splat" sound is different, and his nose does not puff in and out when he laughs. Gary's eye pupils are red dots and his irises are smaller, he lacks eyelashes, and he has a lower tone of voice in the "meow" (although Tom Kenny claims to use a new "meow" for each episode). Squidward also appears to have rows of bamboo poles behind his house. Differences in SpongeBob's house are also present in this episode, but not in others, such as there is only one window in the front. Also, SpongeBob and Patrick are a little bit fatter. Also, SpongeBob's alarm clock has a different ship horn sound than his alarm clock in later episodes. The changes were made when the series officially aired.
Home video releases
VHS
The Best of Nicktoons 1998 (original pilot version)
DVD
SpongeBob SquarePants: The Complete 3rd Season (included as a bonus feature)
SpongeBob SquarePants: 10 Happiest Moments (included as a bonus feature)
SpongeBob SquarePants: The First 100 Episodes
SpongeBob SquarePants: SpongeBob, You're Fired!
SpongeBob SquarePants: The Pilot, a Mini-Movie, and the Square Shorts
iTunes
SpongeBob SquarePants: Volume 1
SpongeBob SquarePants: From the Beginning - Part 1
Trivia
This episode was not included on The Complete 1st Season set due to copyright issues with the song "Livin' in the Sunlight, Lovin' in the Moonlight" which played during the episode. According to Derek Drymon, Nickelodeon didn't want to pay Tiny Tim's estate for the rights. However, the episode was included on the German DVD release of Season 1, and was later included on The Complete 3rd Season as a bonus feature, and later reinstated in its proper spot on The First 100 Episodes set.
In the Italian dub of the episode, "Livin' in the Sunlight, Lovin' in the Moonlight" was mostly cut, most likely due to copyright issues.
In the 2002 movie Orange County, Jack Black's character Lance is seen watching and laughing at this episode.
SpongeBob is shown to have a pet scallop that he kept in a birdcage. It can also be seen in "Missing Identity" and "

Pineapple Fever

".
In this episode, SpongeBob's shoes do not make the squeaky sound usually heard when he walks.
This is one of six SpongeBob episodes in which the 1986 Paramount Pictures logo was plastered with the 2002 Paramount Pictures logo. The others are "

Squeaky Boots

", "

F.U.N.

", "Squidward the Unfriendly Ghost", "Employee of the Month" and "Rock Bottom".
This episode was ranked #29 and #17 in The 100 Greatest Nicktoon Episodes countdown.
International premieres
UK: January 3, 2000
Ireland: February 28, 2000
Canada: March 4, 2000
Australia: July 26, 2000
New Zealand: July 31, 2000
In other languages
| Language | Name | Meaning |
| --- | --- | --- |
| Arabic | مطلوب موظفين | Staff Required |
| Bulgarian | Търси се Помощник | Looking for a Helper |
| Cantonese | 急徵店員 | Expedited Clerk |
| Finnish | Ravintola-Apulainen | Restaurant Assistant |
| French | Bienvenue à Bord | Welcome Aboard |
| German | Aushilfe Gesucht | Looking for Help |
| Greek | Ζητείται Βοηθός | Help Wanted |
| Hebrew | דרוש עובד | Require Employee |
| Japanese | バイト募集中 | Part-Time Job Wanted |
| Latvian | Ir Vajadzīga Palīdzība | Need Help |
| Macedonian | Бараме Помошник | We are looking for a Helper |
| Norwegian | Hjelp Ønskes | Help Wanted |
| Polish | Potrzebna Pomoc | Help Needed |
| Russian | Требуется Помощник | Assistant is Required |
| Spanish (Spain) | Se Necesita Ayudante | Helper is Needed |
| Spanish (Latin America) | Se Busca Ayuda | Help Search |
| Ukrainian | Потрібен Помічник | Assistant is Required |
Title cards
External links
This page uses content from the English Wikipedia. The article or pieces of the original article was at Help Wanted. The list of authors can be seen in the page history. As with Nickipedia, the text of Wikipedia is available under the GNU Free Documentation License.
SpongeBob SquarePants

episodes
Season 1
"Help Wanted" / "Reef Blower" / "Tea at the Treedome" • "Bubblestand" / "Ripped Pants" • "Jellyfishing" / "Plankton!" • "Naughty Nautical Neighbors" / "Boating School" • "Pizza Delivery" / "Home Sweet Pineapple" • "Mermaid Man and Barnacle Boy" / "Pickles" • "Hall Monitor" / "Jellyfish Jam" • "Sandy's Rocket" / "Squeaky Boots" • "Nature Pants" / "Opposite Day" • "Culture Shock" / "F.U.N." • "MuscleBob BuffPants" / "Squidward the Unfriendly Ghost" • "The Chaperone" / "Employee of the Month" • "Scaredy Pants" / "I Was a Teenage Gary" • "SB-129" / "Karate Choppers" • "Sleepy Time" / "Suds" • "Valentine's Day" / "The Paper" • "Arrgh!" / "Rock Bottom" • "Texas" / "Walking Small" • "Fools in April" / "Neptune's Spatula" • "Hooky" / "Mermaid Man and Barnacle Boy II"
Season 2
"Your Shoe's Untied" / "Squid's Day Off" • "Something Smells" / "Bossy Boots" • "Big Pink Loser" / "Bubble Buddy" • "Dying for Pie" / "Imitation Krabs" • "Wormy" / "Patty Hype" • "Grandma's Kisses" / "Squidville" • "Pre-Hibernation Week" / "Life of Crime" • "Christmas Who?" • "Survival of the Idiots" / "Dumped" • "No Free Rides" / "I'm Your Biggest Fanatic" • "Mermaid Man and Barnacle Boy III" / "Squirrel Jokes" • "Pressure" / "The Smoking Peanut" • "Shanghaied" / "Gary Takes a Bath" • "Welcome to the Chum Bucket" / "Frankendoodle" • "The Secret Box" / "Band Geeks" • "Graveyard Shift" / "Krusty Love" • "Procrastination" / "I'm with Stupid" • "Sailor Mouth" / "Artist Unknown" • "Jellyfish Hunter" / "The Fry Cook Games" • "Squid on Strike" / "Sandy, SpongeBob, and the Worm"
Season 3
"The Algae's Always Greener" / "SpongeGuard on Duty" • "Club SpongeBob" / "My Pretty Seahorse" • "Just One Bite" / "The Bully" • "Nasty Patty" / "Idiot Box" • "Mermaid Man and Barnacle Boy IV" / "Doing Time" • "Snowball Effect" / "One Krabs Trash" • "As Seen on TV" / "Can You Spare a Dime?" • "No Weenies Allowed" / "Squilliam Returns" • "Krab Borg" / "Rock-a-Bye Bivalve" • "Wet Painters" / "Krusty Krab Training Video" • "Party Pooper Pants" • "Chocolate With Nuts" / "Mermaid Man and Barnacle Boy V" • "New Student Starfish" / "Clams" • "Ugh" • "The Great Snail Race" / "Mid-Life Crustacean" • "Born Again Krabs" / "I Had an Accident" • "Krabby Land" / "The Camping Episode" • "Missing Identity" / "Plankton's Army" • "The Sponge Who Could Fly" • "SpongeBob Meets the Strangler" / "Pranks a Lot"
Season 4
"Fear of a Krabby Patty" / "Shell of a Man" • "Krabs vs. Plankton" / "The Lost Mattress" • "Have You Seen This Snail?" • "Skill Crane" / "Good Neighbors" • "Selling Out" / "Funny Pants" • "Dunces and Dragons" • "Enemy In-Law" / "Mermaid Man and Barnacle Boy VI: The Motion Picture" • "Patrick SmartPants" / "SquidBob TentaclePants" • "Krusty Towers" / "Mrs. Puff, You're Fired" • "Ghost Host" / "Wishing You Well" • "Chimps Ahoy" / "Whale of a Birthday" • "Karate Island" / "All That Glitters" • "New Leaf" / "Once Bitten" • "Bummer Vacation" / "Wigstruck" • "Squidtastic Voyage" / "That's No Lady" • "Hocus Pocus" / "The Thing" • "Driven to Tears" / "Rule of Dumb" • "Born to Be Wild" / "Best Frenemies" • "The Pink Purloiner" / "Squid Wood" • "Best Day Ever" / "The Gift of Gum"
Season 5
"Friend or Foe" • "Night Light" / "The Original Fry Cook" • "Rise and Shine" / "Waiting" / "Fungus Among Us" • "Spy Buddies" / "Boat Smarts" / "Good Ol' Whatshisname" • "New Digs" / "Krabs à la Mode" • "Roller Cowards" / "Bucket Sweet Bucket" • "To Love a Patty" / "Breath of Fresh Squidward" • "Money Talks" / "SpongeBob vs. the Patty Gadget" / "Slimy Dancing" • "The Krusty Sponge" / "Sing a Song of Patrick" • "A Flea in Her Dome" / "The Donut of Shame" / "The Krusty Plate" • "Atlantis SquarePantis" • "Picture Day" / "Pat No Pay" / "BlackJack" • "Blackened Sponge" / "Mermaid Man vs. SpongeBob" • "The Inmates of Summer" / "To Save a Squirrel" • "Le Big Switch" / "Goo Goo Gas" • "20,000 Patties Under the Sea" / "The Battle of Bikini Bottom" • "Pest of the West" • "The Two Faces of Squidward" / "SpongeHenge" • "Banned in Bikini Bottom" / "Stanley S. SquarePants"
Season 6
"Spongicus" / "Suction Cup Symphony" • "House Fancy" / "Krabby Road" • "Penny Foolish" / "Nautical Novice" • "Not Normal" / "Gone" • "The Splinter" / "Slide Whistle Stooges" • "A Life in a Day" / "Sun Bleached" • "Giant Squidward" / "No Nose Knows" • "Patty Caper" / "Plankton's Regular" • "Grandpappy the Pirate" / "Cephalopod Lodge" • "Squid's Visit" / "To SquarePants or Not to SquarePants" • "Shuffleboarding" / "Professor Squidward" • "Boating Buddies" / "The Krabby Kronicle" • "The Slumber Party" / "Grooming Gary" • "SpongeBob SquarePants vs. The Big One" • "Truth or Square" • "Porous Pockets" / "Choir Boys" • "Krusty Krushers" / "The Card" • "Dear Vikings" / "Ditchin'" • "Pineapple Fever" / "Chum Caverns" • "Shuffleboarding" / "Professor Squidward" • "Pet or Pests" / "Komputer Overload" • "Gullible Pants" / "Overbooked" • "No Hat for Pat" / "Toy Store of Doom" • • "Sand Castles in the Sand" / "Shell Shocked" • "Pineapple Fever" / "Chum Caverns" • "The Clash of Triton"
Season 7
"Tentacle-Vision" / "I ♥ Dancing" • "Growth Spout" / "Stuck in the Wringer" • "Someone's in the Kitchen with Sandy" / "The Inside Job" • "Greasy Buffoons" / "Model Sponge" • "Keep Bikini Bottom Beautiful" / "A Pal for Gary" • "Yours, Mine and Mine" / "Kracked Krabs" • "The Curse of Bikini Bottom" / "Squidward in Clarinetland" • "SpongeBob's Last Stand" • "Back to the Past" / "The Bad Guy Club for Villains" • "A Day Without Tears" / "Summer Job" • "One Coarse Meal" / "Gary in Love" • "The Play's the Thing" / "Rodeo Daze" • "Gramma's Secret Recipe" / "The Cent of Money" • "The Monster Who Came to Bikini Bottom" / "Welcome to the Bikini Bottom Triangle" • "The Curse of the Hex" / "The Main Drain" • "Trenchbillies" / "Sponge-Cano!" • "The Great Patty Caper" • "That Sinking Feeling" / "Karate Star" • "Buried in Time" / "Enchanted Tiki Dreams" • "The Abrasive Side" / "Earworm" • "Hide and Then What Happens?" / "Shellback Shenanigans" • "The Masterpiece" / "Whelk Attack" • "You Don't Know Sponge" / "Tunnel of Glove" • "Krusty Dogs" / "The Wreck of the Mauna Loa" • "New Fish in Town" / "Love That Squid" • "Big Sister Sam" / "Perfect Chemistry"
Season 8
"Accidents Will Happen" / "The Other Patty" • "Drive Thru" / "The Hot Shot" • "A Friendly Game" / "Sentimental Sponge" • "Frozen Face-Off" • "Squidward's School for Grown-Ups" / "Oral Report" • "Sweet and Sour Squid" / "The Googly Artiste" • "A SquarePants Family Vacation" • "Patrick's Staycation" / "Walking the Plankton" • "Mooncation" / "Mr. Krabs Takes a Vacation" • "Ghoul Fools" • "Mermaid Man Begins" / "Plankton's Good Eye" • "Barnacle Face" / "Pet Sitter Pat" • "House Sittin' for Sandy" / "Smoothe Jazz at Bikini Bottom" • "Bubble Troubles" / "The Way of the Sponge" • "The Krabby Patty That Ate Bikini Bottom" / "Bubble Buddy Returns" • "Restraining SpongeBob" / "Fiasco!" • "Are You Happy Now?" / "Planet of the Jellyfish" • "Free Samples" / "Home Sweet Rubble" • "Karen 2.0" / "InSPONGEiac" • "Face Freeze!" / "Glove World R.I.P." • "Squiditis" / "Demolition Doofus" • "Treats!" / "For Here or To Go" • "It's a SpongeBob Christmas!" • "Super Evil Aquatic Villain Team Up is Go!" / "Chum Fricassee" • "The Good Krabby Name" / "Move It or Lose It" • "Hello Bikini Bottom!"
Season 9
"Extreme Spots" / "Squirrel Record" • "License to Milkshake" / "Squid Baby" • "Patrick-Man!" / "Gary's New Toy" • "Eek, An Urchin!" / "Squid Defense" • "Little Yellow Book" / "Bumper to Bumper" • "Jailbreak!" / "Evil Spatula" • "It Came from Goo Lagoon" • "Safe Deposit Krabs" / "Plankton's Pet" • "Don't Look Now" / "Séance Shméance" • "Kenny the Cat" / "Yeti Krabs" • "SpongeBob You're Fired" • "Lost in Bikini Bottom" / "Tutor Sauce" • "Squid Plus One" / "The Executive Treatment" • "Pull Up a Barrel" / "Company Picnic" • "Sanctuary!" / "What's Eating Patrick?" • "Patrick! The Game" / "The Sewers of Bikini Bottom" • "SpongeBob LongPants" / "Larry's Gym" • "The Fish Bowl" / "Married to Money" • "Mall Girl Pearl" / "Two Thumbs Down" • "Sharks vs. Pods" / "CopyBob DittoPants" • "Sold!" / "Lame and Fortune" • "Goodbye, Krabby Patty?" • "Sandy's Nutmare" / "Bulletin Board" • "Food Con Castaways" / "Snail Mail" • "Pineapple Invasion" / "Salsa Imbecilicus" • "Mutiny on the Krusty" / "The Whole Tooth"
Season 10
"Whirly Brains" / "Mermaid Pants" • "Unreal Estate" / "Code Yellow" • "Mimic Madness" / "House Worming" • "Snooze You Lose" / "Krusty Katering" • "SpongeBob's Place" / "Plankton Gets the Boot" • "Life Insurance" / "Burst Your Bubble" • "Plankton Retires" / "Trident Trouble" • "The Incredible Shrinking Sponge" / "Sportz?" • "The Getaway" / "Lost and Found" • "Patrick's Coupon" / "Out of the Picture" • "Feral Friends" / "Don't Wake Patrick"
Season 11
"Cave Dwelling Sponge" / "The Clam Whisperer" • "Spot Returns" / "The Check-Up" • "Spin the Bottle" / "There's a Sponge in My Soup" • "Man Ray Returns" / "Larry the Floor Manager" • "The Legend of Boo-Kini Bottom" • "No Pictures, Please" / "Stuck on the Roof" • "Krabby Patty Creature Feature" / "Teacher's Pests" • "Sanitation Insanity" / "Bunny Hunt" • "Squid Noir" / "Scavenger Pants" • "Cuddle E. Hugs" / "Pat the Horse • "Chatterbox Gary" / "Don't Feed the Clowns" • "Drive Happy" / "Old Man Patrick" • "Fun-Sized Friends" / "Grandmum's the Word" • "Doodle Dimension" / "Moving Bubble Bass" • "High Sea Diving" / "Bottle Burglars" • "My Leg!" / "Ink Lemonade" • "Mustard O' Mine" / "Shopping List" • "Whale Watching" / "Krusty Kleaners" • "Patnocchio" / "ChefBob" • "Plankton Paranoia" / "Library Cards" • "Call the Cops" / "Surf N' Turf" • "Goons on the Moon" • "Appointment TV" / "Karen's Virus" • "The Grill is Gone" / "The Night Patty" • "Bubbletown" / "Girls' Night Out" • "Squirrel Jelly" / "The String"
Season 12
"FarmerBob" / "Gary and Spot" • "The Nitwitting" / "The Ballad of Filthy Muck" • "The Krusty Slammer" / "Pineapple RV" • "Gary's Got Legs" / "King Plankton" • "Plankton's Old Chum" / "Stormy Weather" • "Swamp Mates" / "One Trick Sponge" • "The Krusty Bucket" / "Squid's on a Bus" • "Sandy's Nutty Nieces" / "Insecurity Guards" • "Broken Alarm" / "Karen's Baby" • "Shell Games" / "Senior Discount" • "Mind the Gap" / "Dirty Bubble Returns" • "Jolly Lodgers" / "Biddy Sitting" • "SpongeBob's Big Birthday Blowout" • "SpongeBob in RandomLand" / "SpongeBob's Bad Habit" • "Handemonium" / "Breakin'" • "Boss for a Day" / "The Goofy Newbie" • "The Ghost of Plankton" / "My Two Krabses" • "Knock Knock, Who's There" / "Pat Hearts Squid" • "Lighthouse Louie" / "Hiccup Plague" • "A Cabin in the Kelp" / "The Hankering" • "Who R Zoo?" / "Kwarantined Krab" • "Plankton's Intern" / "Patrick's Tantrum" • "Bubble Bass's Tab" / "Kooky Kooks" • "Escape from Beneath Glove World" • "Krusty Koncessionaires" / "Dream Hoppers"
Season 13
"A Place for Pets" / "Lockdown for Love" • "Squidward's Sick Daze" / "Under the Small Top" • "Goofy Scoopers" / "Pat the Dog" • "Something Narwal This Way Comes" / "C.H.U.M.S." • Untitled Christmas special