Wiki Targeted (Entertainment)
Play Sound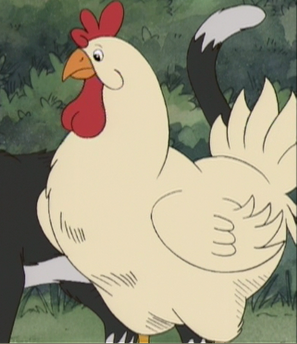 Hen is one of Little Bear's friends. She is one of the two tetartagonists of Little Bear, one of the four deuteragonists of Little Bear and a supporting character in The Little Bear Movie. She is voiced by Elizabeth Hanna.
Her first appearance on the television series was in the episode "Hide and Seek".
Her last appearance was in the episode "Little Bear Scares Everyone" for the television series. And her final major appearance was in The Little Bear Movie.
Personality
Hen is a lively and energetic but somewhat of a feisty and fussy chicken with an English accent as well. She is sophisticated and mature, and likes things to be organized, although her several nieces and nephews often create chaos in her spotless house. Even though Hen is very refined, at times she joins in on the fun and adventures with the rest of the crew.
Residence
Her home is a large chicken coop that she keeps clean at all times. She technically lives with Little Bear at his house just because she's usually part of his family even though she's just a friend.
Relationship
Hen has been shown to have been fond of Owl. In the episode "The Kiss" Mr. Skunk, Duck, and Cat are playing "kissing tag" so Cat kisses Owl on the side of his face making him "it" when Hen walks by Owl he kisses Hen on the side of her face and Hen says, "'I didn't know you cared'", whereupon Owl says, "'I don't! I mean...I do!'" leaving us to wonder if there are feelings between them.
Friends
Little Bear
Emily
Duck
Cat
Cub
Owl
Mitzi
Mother Bear
Father Bear
Moose
No Feet
Trivia
Hen throughly enjoys singing opera, but is a terrible singer.
Hen is a leader to Little Bear and friends
Hen likes No Feet, but she doesn't like it when No Feet is on her properties.
In the episode The Kiss she was surprised and flattered when Owl kissed her implying that he has a crush on her.
In the episode The Wedding she and Duck were bridesmaids in Mr. and Mrs. Skunk's wedding and Owl asked her to dance.