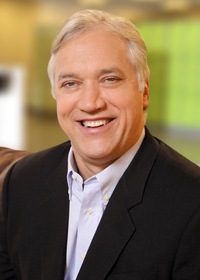 Herb Scannell
(born January 11, 1957) is a Puerto Rican-American media executive and businessman. He served as the President of Nickelodeon and TV Land from 1996 to 2006, and was the founding CEO of Next New Networks. He currently serves as the president of BBC Worldwide America.
In February 1996, he was named President of Nickelodeon and TV Land, succeeding Geraldine Laybourne. Under his leadership, Nickelodeon (which, under his watch, included such animated series as SpongeBob SquarePants, Danny Phantom, The Fairly OddParents, Avatar: The Last Airbender, The Angry Beavers, and Hey Arnold!) and TV Land became the highest rated cable networks launched within the past seven years. Nickelodeon also expanded to other areas such as live theatrical shows, magazines and feature films. He was also responsible for launching Dora the Explorer, The Brothers Garcia (which is based on Los Garcia, a show he used to watch in Puerto Rico) and Taina.
On June 2003, MTV Chairman Tom Freston named Scannell as president of Nickelodeon Networks and vice chairman of MTV Networks. He played a lead role in the overall management of the entire company.
During his presidential tenure, Nickelodeon Magazine featured regular interviews with him under the heading Hey, Herb! (The analogous feature for previous president Geraldine Laybourne was called Ask the Boss Lady.)
On January 4, 2006, Scannell resigned from his position with MTV/Nickelodeon, and was replaced by Cyma Zarghami.
Gallery
Community content is available under
CC-BY-SA
unless otherwise noted.