Wiki Targeted (Entertainment)
Play Sound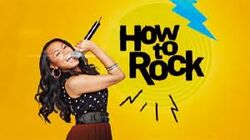 This is the episode list for the series How to Rock, listed by date of premiere. Each episode begins with "How to Rock..." as a play on the title.
As of August 26, 2012, Nickelodeon decided not to renew the show for a second season.
Episodes
Series #
Title
Original air date
Prod. Code
1
"How to Rock Braces and Glasses"
February 4, 2012
After getting braces and glasses, Kacey Simon (Cymphonique Miller) falls from the popular group. She forges unlikely friendships with the members of the band Gravity 5 featuring Stevie (Lulu Antariksa), Zander (Max Schneider), Kevin (Christopher O'Neal), and Nelson (Noah Crawford). As lead singer, Kacey takes Gravity 5's musical success to new heights while igniting a musical rivalry with The Perfs featuring her former best friends and fellow performers, Molly (Samantha Boscarino) and Grace (Halston Sage).
2
"How to Rock a Messy Bet"
February 4, 2012
When Gravity 5's hangout is messy beyond repair, they start a bet that challenges each of them to give up their favorite habit and the last one standing gets to watch the others clean. Kacey thinks giving up her phone will be a piece of cake. Stevie is forced to pair up with The Perfs for chemistry without "slamming" them, and gets help from Molly, who convinces Kacey's crush and one of the hottest boys in school, Tony Cardella, to text her, which he does to ask her out. Kevin and Nelson try to find a way to satisfy their need of their favorite game, "Furious Pidgeons". Zander has to go on without looking in a mirror, as he's always "checking himself out" and showing a little vanity. Kacey breaks everyone in the band except for Stevie. Then, Molly, knowing that Kacey won't break anytime soon, begins to text Tony, trying to make Kacey uncomfortable, but Stevie defends Kacey from further harassment by shooting a nasty comment at Molly (which is slamming, meaning she lost the bet). In the end, Kacey wins the bet, and she and Tony head off to get smoothies at the mall happily. Kacey then tells Tony that he should come to her gig, which he does.
3
"How to Rock a Guest List"
February 11, 2012
When Justin Cole, the most popular guy in school, hands out invitations for his party, the biggest party of the year, Kacey stands up for Gravity 5 to be invited too. But now, she feels pressure to make sure they fit in with the cool kids because Molly and Grace said that if her band mates aren't cool enough, they'll brand her loser. Launching into action, Kacey schools her bandmates on being cool, but later learns that asking her friends to change is the wrong approach, because at the party, things go downhill: Zander starts to get sweaty, Kevin and Nelson are fooling around (such as wanting to get into the V.I.P area by forcing Zander to fake an injury and playing with the chocolate fountain), and Stevie, learning the Justin likes her and finds her cool, starts leg wrestling him. After Kacey freaks out, Justin nearly kicks her out saying her band mates are already cool and that she's actually being uncool by trying to change them, and despite Kacey constantly trying to force them into being something they're not, her friends stand by her and stick up for her, saying that if Kacey's out, they're out.
4
"How to Rock a Statue"
February 18, 2012
When Zander enters a school art contest to impress his latest crush Dana Blaire, Kacey offers to "help" by being his muse. Unfortunately her attempts to help are anything but helpful and when she breaks Zander's Magnum Opus, she must quickly find a way to recreate his piece of art. She decides to paint herself silver and replace the broken statue with herself, but Zander eventually finds out. While posing as Zander's piece of art, Kacey over-hears Molly and Grace insulting Zander behind his back, claiming he made the staute all wrong, and Molly saying she never actually painted her self-portrait because she paid her art teacher to do it for her. So, Andy Bartlet (Jacob Houston) wins. Meanwhile, Stevie, Kevin and Nelson have a bet when Kevin and Nelson try to prove that they are smarter than Stevie's science project: hamster intelligence.
5
"How to Rock a Music Video"
February 25, 2012
After The Perfs' music video goes viral on the internet, skyrocketing them to fame (complete with a merchandising line at school), Kacey rallies Gravity 5 to make a video of their own to out-do the Perfs. However, Kacey's bossy stubbornness reaches new heights and causes a rift in Gravity 5. Kacey rejoines with the Perfs, but she realizes that she's just being used (after Molly makes Kacey get coffee for the rest of Perfs).Kacey makes up with Gravity 5 and make a music video that becomes more popular than the Perfs video.
6
"How to Rock an Election"
March 3, 2012
Kacey is running against Molly for class president, and the polls show that the race is very close. In order to capture the nerd vote, Kacey convinces Kevin to run and then drop out at the last minute, giving his supporters to her. Kacey is so confident this plan is going to work that she is already planning the Victory party and has promised that she will get the band Big Time Rush to come perform. But something happens to Kevin when he gets a taste of popularity, and the race is actually between Kacey, Molly and Kevin now. Kacey realizes that her friendship is more important than winning- she pulls through to support Kevin and even comes through on her promise to bring BTR to their school.

Special guest stars: Big Time Rush as themselves

Note: This is the second time that Cymphonique Miller worked with Big Time Rush, the first being the Big Time Rush episode "Big Time Girl Group".

7
"How to Rock a Newscast"
March 17, 2012
The gang is in charge of the school news broadcast and both Kacey and Molly are vying to be Head Reporter. As the producer, Stevie gets to choose and picks Molly because she's generally more serious. Kacey feels slighted and sets out to prove that she can do a better job. Stevie decides she'll let them compete, but when Molly files a hard-hitting report about the chlorine content in the school pool, Kacey can't find a story big enough to match it. Desperate to beat Molly, Kacey goes live with a story based on hearsay and sends the whole school into a mad panic. When Kacey realizes that the fungus that she found was just mold, not at all harmful, she feels pressure from her band mates to tell Stevie the truth, especially since the jocks from the football team are allowed to work out in Gravity 5's practice room due to the gym being shut down.
8
"How to Rock a Prank"
March 24, 2012
Kacey has a crush on a senior boy, Dean Hollis. Just as she's about to get a date with him, Molly pulls a prank, leaving Kacey humiliated. Gravity 5 pulls a revenge prank on The Perfs, but it backfires, leaving Kacey and Zander's hands glued together. The situation threatens to sabotage Kacey's big date with Dean.
9
"How to Rock a Secret Agent"
March 31, 2012
Kacey is determined to outshine Molly at the school dance. She sends Stevie undercover to find out what Molly will be wearing. Then, The Perfs over-shine Stevie, Stevie takes the form of an actual Perf and forgetting all about her friends. When Stevie realizes she's being used, she comes up with a plan of her own. Meanwhile, the boys have a bet; whoever doesn't get a date to the dance has to wear a dress to it. After Zander slips up and a girl turns him down and goes with Kevin, he is devastated, as no girl ever rejected him in his life. Kacey goes to the dance with Nelson to make Zander wear a dress. As Stevie and Molly start spending time together, Grace feels left out, as she used to be Molly's right hand girl, but now Molly is ignoring her completely. Stevie goes back to Gravity 5, and Grace is once again the second Perf. At the dance it turns out that Stevie had planned to have Kacey and Molly wear the same dress, which works. Unfortunately, Zander is also wearing the same dress.
10
"How to Rock a Lunch Table"
April 7, 2012
Kacey misses sitting at her old lunch table and will stop at nothing to take it back from The Perfs. Meanwhile, Kevin and Nelson lead a protest against the lunch ladies, who turn all of their favorites foods into gross stews.
11
"How to Rock a Birthday Party"
April 14, 2012
Kacey and Nelson have the same birthday, so Kacey decides to share her birthday party with him. But in planning the party, Kacey ignores Nelson's input, leaving him feeling hurt, and her feeling like a bad friend.
12
"How to Rock a Part-Time Job"
April 21, 2012
Stevie helps Kacey gets a part-time job at Danny Mangos to pay her mom back for a huge credit card bill. However when she finds out that employees can get free smoothies, she accidentally gives away too many free smoothies, getting herself and Stevie fired. Meanwhile, Zander tries to play his ukulele at the mall without the mall cop finding out and Nelson and Kevin try to give out coupons from the places they are working at.
13
"How to Rock Halloween"
April 28, 2012
Halloween has arrived and Kacey is torn between going trick-or-treating with Gravity 5 or going to a Perf party. After dozing off, Kacey ends up in a dream where the Perfs have turned into vampires, Gravity 5 transforms into werewolves and Kacey is "the chosen one". The two groups begin to compete for Kacey's allegiance and now she must choose which identity is hers.
14
"How to Rock a Basketball Team"
May 5, 2012
When every kid in school is required to join a sports team, Kacey reluctantly joins Stevie's basketball team, only to discover she's really good. But Kacey's drive to win puts their friendship to the test. Meanwhile, Nelson creates a snacking machine for him, Kevin, and Zander. When the guys accidentally set it on warp speed, Nelson and the guys are forced to destroy it.
15
"How to Rock a Love Song"
June 30, 2012
Zander is writing a love song, but he won't let anyone see the lyrics until he's done. Kacey and Stevie are too curious to wait, so they sneak a peek. Each of them becomes convinced that they are Zander's secret crush but he reveles to them that it's really about his dog "Lady" by singing the song to them. Meanwhile, Kevin and Nelson accidentally break Kevin's drums while on a zip line and try to figure out a way to raise money to replace it.
16
"How to Rock Cee Lo"
August 18, 2012
The Perfs have front row seats for a Cee Lo Green concert; Gravity 5 can't get tickets. Masquerading as arena employees, Gravity 5 sneaks into the concert through the back way, but when security catches on, they have to run for their lives. Cee Lo Green decides he wants Gravity 5 to tour with him. But there's a misunderstanding - the star only wants Kacey. Gravity 5 is happy for Kacey, but the Battle of the Bands is approaching and now they have no singer.

Note: While this was broadcast as one episode it counts as two for the production order.

17
"How to Rock a Singing Telegram"
September 22, 2012
Stevie is too shy to ask her crush to the school dance so Kacey asks him for her through a singing telegram and gets an unexpected response. Zander, Kevin and Nelson are all assigned telegrams that wildly backfire.
18
"How to Rock a Yearbook"
September 29, 2012
Gravity 5 tries to get their own yearbook page, just like The Perfs have. The Perfs, of course, are two steps ahead. You'll also learn why Zander is so secretive about last year's yearbook from his old school, and why Stevie and Kevin will stop at nothing to uncover the secret. Meanwhile the Perfs get lots of more people to join Gravity 5, right before their performance. Can Kacey and the gang find out a way to make it work?
19
"How to Rock High School Sensation"
October 13, 2012
Gravity 5 and the Perfs team up to make an audition tape for the TV show "High School Sensation." The whole group is crushed when Kevin forgets to send their tape, so he tracks down the show's host (Romeo Miller) to fix his mistake.
20
"How to Rock a Good Deed"
October 20, 2012
Kacey is not happy that the Perfs' volunteer project is getting more attention than Gravity 5's project, so she uses a foot injury to get special attention. When her friends find out, they plot revenge.
21
"How to Rock Camping"
October 27, 2012
On a school camping trip, Gravity 5 and the Perfs have to rough it like prisoners to get a passing grade. Out in the wild, it's not Kacey or Molly but Grace who has the skills to lead, and her leadership skills get tested.
22
"How to Rock a Fashion Victim"
November 3, 2012
Kacey is used to being great at everything, but when she has to design her own clothing line as part of a competition to win an internship with a famous designer, she doesn't rock the competition as much as she had hoped. Meanwhile, Kevin opens a mobile bistro at lunch time with Nelson and Zander after being fed up with the school's nasty lunches.
23
"How to Rock a Uniform"
November 10, 2012
The principal (Greg Grunberg) imposes a new school-uniform policy in response to Kacey and Molly's intense fashion rivalry, and the girls must join forces to get it overthrown.
24
"How to Rock a Tennis Ball"
December 1, 2012
Kacey is left responsible of Mr. March's tennis ball, until she loses it.
25
"How to Rock Christmas"
December 8, 2012
Nelson and Kevin get jobs dressed as elves and taking pictures of children with Santa Claus. Gravity 5 gets stuck in Danny Mango's during the Christmas holiday. They try crawling through the vents to get out and they end up in a department store. Things get wild when they discover the Perfs are there too.