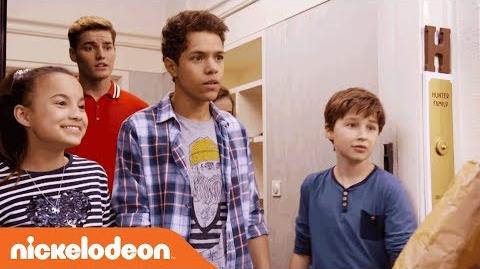 Hunter Street is a comedy adventure television series that premiered on Nickelodeon on March 13, 2017. It is produced in the Netherlands by Blooming Media. The series stars Stony Blyden, MaeMae Renfrow, Kyra Smith, Thomas Jansen, and Daan Creyghton. However, Wilson Radjou-Pujalte and Kate Bensdorp joined the main cast in the second season.
Plot
Hunter Street follows the journey of five foster kids on a quest to find their missing parents, Erik and Kate Hunter, after they mysteriously disappear.
Premise
The lives of five foster kids change significantly after spending the first night in their new house. When siblings Max, Tess, Anika, Sal and Daniel wake up, they discover that their parents have disappeared. This sets the kids up to head out on a quest in search of clues that could help them find their parents. That journey turns into an epic family adventure, which includes such activities as boat racing through canals, exploring secret tunnels, and uncovering lost treasures. Along the way, they must fight off old family rivals and deceitful heirs to solve the mystery.
Main Characters
"Gee, this is harder than I thought."
This article doesn't contain enough information. If you know anything about Hunter Street,
Community content is available under
CC-BY-SA
unless otherwise noted.