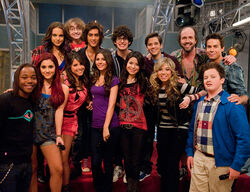 iParty with Victorious is a special 90-minute crossover episode of iCarly and Victorious. It premiered on June 11, 2011 and was watched by 7.3 million viewers. It also marked Kenan Thompson's brief return to Nickelodeon.
Plot
Carly is dating a boy named Steven Carson, who divides his time between his divorced parents in Seattle and Los Angeles. Every other month, Steven goes off to Los Angeles, where he is dating Tori Vega. Robbie posts a picture of Steven and Tori online, which Carly stumbles upon. She initially denies the fact that Steven is cheating on her, but Sam seeks to prove it is indeed true. She finds Rex, Robbie's ventriloquist dummy, has tweeted about a party held at Kenan Thompson's house, in Hollywood.
Spencer drives the group to Los Angeles, where Carly, Sam, Freddie, Gibby, and Spencer visit Spencer's ex-girlfriend, Monie, who happens to be a skilled make-up artist, and receive disguise makeovers to avoid being noticed from iCarly by others. They then head off to the house of Kenan Thompson, where Andre Harris is hosting a party that they suspect Steven and Tori are attending. The iCarly members enter Kenan's party house during the party and split up in search of Steven. Spencer, meanwhile, relaxes in Kenan Thompson's jacuzzi and meets Sikowitz, Beck and Jade. Much to her chagrin, Carly eventually catches Steven and watches him kiss Tori, before she admits Sam is correct about Steven cheating on her. Sinjin Van Cleef another student at Hollywood Arts falls into the jacuzzi when a surfing machine malfunctions.
The iCarly members remove their disguises, and Tori walks in and immediately recognizes them from iCarly. After explaining Steven's actions, Carly and Tori devise a plan to humiliate Steven for revenge. Steven is lured into a closet where he thinks he will make out with Tori. Instead, when he enters the closet, he finds himself on an iCarly webcast with Carly, Sam, Kenan, and Tori, who reveal to iCarly's one million audience members Steven had been dating both Carly and Tori at the same time. Steven becomes embarrassed and leaves. Then, Sam beats Rex in a rap battle. Later, the iCarly cast joins Tori and her friends in karaoke, where they sing "Leave It All to Shine", a cross between the iCarly and Victorious theme songs.