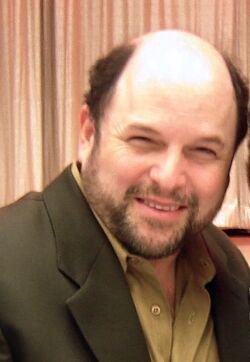 Jay Scott Greenspan (born September 23, 1959),better known by his professional name of Jason Alexander, is an American actor, writer, comedian, television director, producer, and singer. He is best known for his role as George Costanza on the television series Seinfeld, appearing in the sitcom from 1989 to 1998. He also has had an active career on the stage, appearing in several Broadway musicals including Jerome Robbins' Broadway in 1989, for which he won the Tony Award as Best Actor in a Musical. He appeared in the Los Angeles production of The Producers with Martin Short.
His first work with Nickelodeon was appearing as Brandon in the Nick at Nite animated series Glenn Martin DDS episode "GlennHog Day". His best known role for Nickelodeon, however, was portraying Cosmo's human form in the first live-action Fairly OddParents movie, A Fairly Odd Movie: Grow Up, Timmy Turner! (Outside of these scenes, Cosmo was largely CGI-animated and voiced by his regular voice actor, Daran Norris.)
He later guest starred in the Dora the Explorer episode "Dora and Diego Save Atlantis" as a greedy owl.