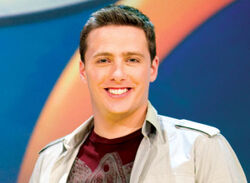 Jeffrey "Jeff" Sutphen (born c. 1977) is an American actor, producer, and game show host who works with Nickelodeon. After graduating from Marist College, Sutphen began his career in entertainment working for MTV.
From 2002 to 2005, he appeared on U-Pick Live as Pick Boy, a superhero character. While the block has been off the air for several years, the character has appeared at several Nickelodeon events, such as Nickelodeon Magazine's Big 10 Birthday Bash several Kids' Choice Awards, San Diego Comic-Con International, and several Super Bowls as of 2015.
He later became the field producer for the short-lived My Family's Got GUTS and Dance on Sunset. He is best known, unmasked, as the host of the original and family versions of BrainSurge. Subsequently, Sutphen has hosted the Preshow for the 2010 and 2011 Kids' Choice Awards with Lily Collins and Daniella Monet and Noah Munck respectively.
He became the host of Figure It Out for the two seasons following its 2012 revival.
Community content is available under
CC-BY-SA
unless otherwise noted.