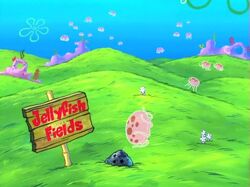 Jellyfish Fields (also known as Jellyfish Area in the two Korean versions of the series) is an area featured in SpongeBob SquarePants. It is, as the name suggests, a vast area in which jellyfish reside, first seen in the episode "Tea at the Treedome". Over 4,000,000 jellyfish reside here, as evidenced in the episode "Jellyfish Hunter". In the episode "Born to Be Wild", it's was also revealed that Jellyfish Fields is 50 miles long. It is also a place where SpongeBob and Patrick enjoy Jellyfishing.
There are two entrances to the field: one at the beginning and one at the end, so it stretches out to other towns. Other creatures live there such as clams, leeches, and poisonous sea urchins. Formerly, the Evil Alien Jellyfish Overlord lived there. Objects found at the field are a treasure chest, an anchor, and hooks.
According to the "The Pink Purloiner", every year, for three days, different kinds of jellyfish from all over the world come to Jellyfish Fields. This is known as the Great Jellyfish Migration.
Community content is available under
CC-BY-SA
unless otherwise noted.