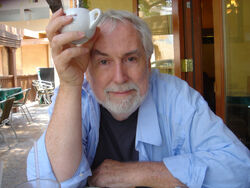 Jim Duffy (July 2, 1937 – March 23, 2012) was an American animator whose credits included more than twenty years at Klasky Csupo creating productions for Nickelodeon, as well as an earlier stints as an animator for Hanna Barbara, TVC Animation in London, Murakami-Wolf-Swenson, and others. Duffy received two Primetime Emmy Awards for As Told by Ginger, as well as several other nominations for his work on Rugrats. Duffy also won three Daytime Emmy Awards during his tenure at Klasky Csupo, and received additional nominations for his work on Aaahh!!! Real Monsters and Captain Planet and the Planeteers. Duffy was also a director, writer, designer and storyboard artist for live action television commercials, PSAs, and corporate productions, including a series of safety videos for the National Coal Board. He divided his professional time between Los Angeles and London. His short-form animated films were screened at film festivals worldwide.
Duffy was born in the United States and raised in the United Kingdom. He first worked as an animator at Hanna-Barbera during the 1970s. His credits with Hanna-Barbera during the 1970s and early 1980s included Super Friends, The Smurfs, and The New Scooby and Scrappy-Doo Show. After leaving Hanna-Barbera, Duffy spent much of the 1980s working on productions for other animation studios, including The Real Ghostbusters for DIC Entertainment, G.I. Joe: A Real American Hero for Sunbow Productions, and Teenage Mutant Ninja Turtles for Murakami Wolf Swenson.
Duffy joined Klasky Csupo, where he supervised many of the studios productions which aired on Nickelodeon for more than twenty years. In addition to the shows which earned him Emmy nominations and awards, such as Rugrats, his credits included Rocket Power and All Grown Up!
Duffy died from cancer on March 23, 2012, at the age of 74. He was survived by his children, Barbara Duffy, Vera Duffy, and James Duffy, and his former wife, Cella Nichols Duffy, an animation producer. His funeral was held at the Old North Church in the Forest Lawn Memorial Park in the Hollywood Hills.
This page uses content from the English Wikipedia. The article or pieces of the original article was at Jim Duffy. The list of authors can be seen in the page history. As with Nickipedia, the text of Wikipedia is available under the GNU Free Documentation License.
Community content is available under
CC-BY-SA
unless otherwise noted.