Wiki Targeted (Entertainment)
Play Sound
"Gee, this is harder than I thought."
This article doesn't contain enough information. If you know anything about Jimmy Bond: Agent 1/7,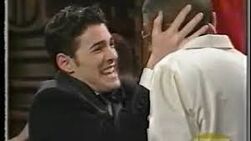 Jimmy Bond: Agent 1/7 is a spy, spoofing James Bond, who starts in an All That skit. Josh Server played Jimmy Bond, a teenage secret agent who often had to save the world from dangerous villains. "W" (Kel Mitchell) often created gadgets designed to help Jimmy, but they always failed miserably. In later sketches "W" was replaced by "Z" (Nick Cannon). Whenever Jimmy goes to confront the villain, W or Z would say "I love it when he saves the world". Jimmy's actual talent as a spy was questionable, but most of the villains were too strange or stupid to actually complete any evil plans.
The villains that Jimmy Bond fights included:
This article is missing an appropriate picture. You can help Nickipedia by adding one!


Once there is a sufficient picture or pictures on the page, this can be removed.