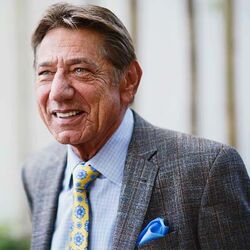 Joseph William Namath (/ˈneɪmɪθ/; born May 31, 1943), nicknamed "Broadway Joe", is a former American football quarterback and actor. He played college football for the University of Alabama under coach Paul "Bear" Bryant from 1962 to 1964, and professional football in the American Football League (AFL) and National Football League(NFL) during the 1960s and 1970s. Namath was an AFL icon and played for that league's New York Jets for most of his professional football career. He finished his career with the Los Angeles Rams. He was elected to the Pro Football Hall of Fame in 1985.
Statistics belie Namath's enduring influence on the game of professional football. He retired after playing 143 games over 13 years in the AFL and NFL, including playoffs. Due mainly to chronic injuries that undermined his career at its peak, his overall record is 68 wins, 71 losses, and four ties, 64–64–4 in 132 starts, and 4–7 in relief. He completed 1,886 passes for 27,663 yards, threw 173 touchdowns, and had 220 interceptions. He played for three division champions (the 1968 and 1969 AFL East Champion Jets and the 1977 NFC West Champion Rams), earned one league championship (1968 AFL Championship), and one Super Bowl victory (Super Bowl III).
In 1999, he was ranked number 96 on The Sporting News' list of the 100 Greatest Football Players, the only player on the list to have spent a majority of his career with the Jets. In his 1975 autobiography, Alabama head coach Bryant called Namath the most natural athlete he had ever coached.
Namath is known for boldly guaranteeing a Jets' victory over Don Shula's NFL Baltimore Colts in Super Bowl III (1969), then making good on his prediction with a 16–7 upset (the win remains the Jets' only Super Bowl championship). Already a celebrity, he was now established as a sports icon. He subsequently parlayed his notoriety into success with endorsement deals and as a nightclub owner, talk show host, pioneering advertising spokesman, theater, motion picture, television actor, and sports broadcaster. He remained a highly recognizable figure in the media and sports worlds nearly half a century after his brashness cemented his identity in the public mind.
For Nickelodeon, he guest starred as a panelist on Figure It Out.
This page uses content from the English Wikipedia. The article or pieces of the original article was at Joe Namath. The list of authors can be seen in the page history. As with Nickipedia, the text of Wikipedia is available under the GNU Free Documentation License.
Community content is available under
CC-BY-SA
unless otherwise noted.