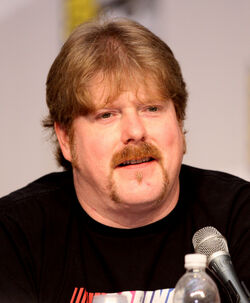 John William DiMaggio (born September 4, 1968) is an American voice actor and beatboxer. A native of North Plainfield, New Jersey, he is known for his gruff, deep voice and New Jersey accent, which he uses to voice mainly villains and anti-heroes. He is best known for his voice roles of Bender in Futurama, Dr. Drakken and Motor Ed in Kim Possible, Marcus Fenix in the Gears of War series, Wakka as well as Kimahri Ronso in Final Fantasy X, The Juggernaut in X-Men Legends and Marvel: Ultimate Alliance 2, Schnitzel in the animated child comedy Chowder, Bobo Haha and Skalamander on Generator Rex and The Joker in the eighth installment of the DC Universe Animated Original Movies series Batman: Under the Red Hood, as well as Tux Dog on the Problem Solverz. He also currently voices the Niblet the Sheepdog in Pound Puppies. DiMaggio later provided the voice of the Autobot Leadfoot in Transformers: Dark of the Moon.
He is best known on Nickelodeon as Rico in The Penguins of Madagascar, a role he originated from the original Madagascar films. He also voices Bada the Gorilla, Burt the Elephant, Hans the Puffin, and various minor characters for the show. For the network, he also voiced El Oso and General Chapuza on El Tigre: The Adventures of Manny Rivera, Tad and Lunk on Catscratch, Yum Yum on Fanboy and Chum Chum, and Actor Toph and Actor Iroh in the Avatar: The Last Airbender episode "The Ember Island Players". In SpongeBob SquarePants he voices BlackJack. He currently voices Mr. Grouse, Flip, and Chunk on The Loud House.
He voiced many characters for shorts on Random! Cartoons. In "Solomon Fix", he voiced Mumpy, and he voiced Roy in the episode "6 Monsters". His most notable character was as Jake the Dog in the short "Adventure Time", a role he would later reprise as a regular character when the short was spun off into the Cartoon Network series of the same name. He also voiced Bud in the Nickelodeon Movie Barnyard.
Community content is available under
CC-BY-SA
unless otherwise noted.