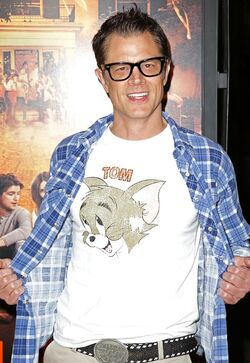 Philip John "PJ" Clapp, Jr., known by his stage name Johnny Knoxville (born March 11, 1971), is an American stunt performer, comedian, actor, screenwriter and film producer. He is best known for his work co-creating and starring in the MTV reality stunt show Jackass.
He has starred in Fun Size and Teenage Mutant Ninja Turtles, as well guest-starring in SpongeBob SquarePants as "Johnny Krill" in the episode "Extreme Spots".[1]
Filmography
Films
TV shows
Trivia
Knoxville is a fan of SpongeBob SquarePants.
Teenage Mutant Ninja Turtles was the first time Knoxville ever provided a voice in a feature-length film.
References