Jurassic World: Dominion Dominates Fandom Wikis - The Loop
Play Sound
It's a bighorn!


This page is a potential threat to peace on Nickipedia because it has been noticed having Shipping wars or similar arguments. This page is likely to be recommended for deletion or special rules unless wars cease. Please make an effort to not have fights on this wiki.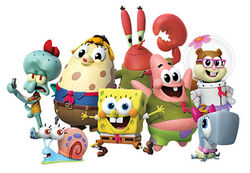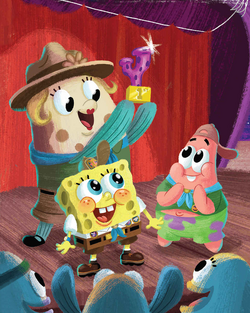 Kamp Koral: SpongeBob's Under Years (also referred to as just Kamp Koral in its title) is the first spin-off series based on SpongeBob SquarePants. It was confirmed by Nickelodeon on June 4, 2019.[2] It is executive produced by Marc Ceccarelli and Vincent Waller.
The spin-off uses designs and elements from The SpongeBob Movie: Sponge on the Run. It features SpongeBob and his pals spending the summer "building underwater campfires, catching wild jellyfish, and swimming in Lake Yuckymuck at the craziest camp in the kelp forest, Kamp Koral."[2]
The series premiered on Paramount+ on March 4, 2021. It aired on Nickelodeon on April 2, 2021 (with The Barbarian and the Troll premiering right after).
It was announced that the show will have 13 additional episodes with the second season having 13 episodes.[3]
Characters
→ Main article: List of Kamp Koral characters
New characters also appear, such as a pair of narwhals named Narlene and Nobby.
Episodes
→ Main article: Kamp Koral: SpongeBob's Under Years episode list
#
Title
Air date
Prod.
code
1
"The Jellyfish Kid"
March 4, 2021
101
2
"Sugar Squeeze"/"Tag, You're It"
102
3
"Quest for Tire"/"Cabin of Curiosities"
103
4
"In Search of Camp Noodist"/"Kitchen Sponge"
104
5
"The Treasure of Kamp Koral"/"Camper Gary"
105
6
"Midnight Snack Attack"/"Hot Pearl-tato"
106
7
"What About Meep?"/"Hard Time Out"
July 22, 2021
107
8
"Pat's A Li'l Sinker"/"Camp SpongeBob"
108
9
"Squisery"/"Game Night"
109
10
"My Fair Nobby"/"Gimme a News Break"
110
11
"Wise Kraken"/"Squatch Swap"
111
12
"The Ho! Ho! Horror!"/"Outhouse Outrage"
112
13
"Are You Afraid of the Dork?"
113
Home video releases
The series' first half of its first season was released on DVD on March 8, 2022.
Trivia
This was the first new entry in the SpongeBob SquarePants franchise announced after Stephen Hillenburg's passing in November 2018.
Hillenburg himself was said to be against "aging down" the characters. This has resulted in extremely negative backlash from fans and some former staff members of Nickelodeon.

In some of the interviews with Stephen Hillenburg, he recalled that when he first pitched the show, the higher-ups at Nick said they would only green light the show if he changed SpongeBob and his friends into kids.[4] Steve was strongly against this executive meddling because it went against his creative vision and was about to quit Nickelodeon, until he came up with a compromise, which was putting SpongeBob in a boat driving school, so he could remain an adult-aged character.[5]

On April 4, 2020, Vincent Waller stated that the series premiere will likely be pushed back to a later date, due to COVID-19 preventing several animation studios from being open. On the same day, Waller also confirmed that the series is being animated in India.
References
External links