Katrina Ann Johnson (born April 27, 1982) is an American actress. She was born in San Diego, California.
She is best known for starring on Nickelodeon's All That sketch comedy show from 1994 to 1997. She left after the 14th episode of the third season after graduating high school at the age of 15, to go on to college and get replaced by Tricia Dickson in the 15th episode of season 3, but remained seen and credited in the seasons 1-3 opening credit sequence through the end of that season. She was well known for two of the best known impersonations in the first era, as Ross Perot and Roseanne Barr. Johnson often played a cute but conniving little girl cheating patrons out of money as the little pansy and Lemonade Scammer. She would return to the show for "All That Live!", its 100th episode celebration, and Nickelodeon's All That 10th Anniversary Reunion Special.
Johnson is now hosting Unscripted Radio you can listen on demand at http://www.unscriptedradio.com/ and starring in a new sitcom called "Grow Up Already" soon to be released. Johnson has a tell all book to be released about her exploits as a flight attendant on private jets to the rich and famous. She is staying busy with a new make up line with "All That" co-star Alisa Reyes in conjunction with Ferro Cosmetics. She can also be seen in advertisements as the face of an emerging Tequila company, Dalvalos Tequila.
Trivia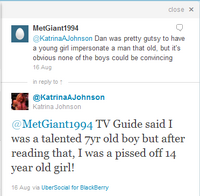 TV Guide, presumably in an article about All That, once called Johnson a "talented 7-year-old boy". Not only was she actually a girl, but she was 14 when the article was first published.
Gallery
External links
Community content is available under
CC-BY-SA
unless otherwise noted.