Wiki Targeted (Entertainment)
Play Sound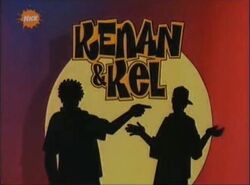 The following is a list of episodes of Kenan & Kel (61 episodes in total and one TV movie).
Episodes
Season 1: 1996-1997
→ Main article: Kenan & Kel (Season 1)
Episode #
Episode Title
Original airdate
Production Code
1
"

Pilot

"
August 17, 1996
101
Kenan wants to buy a car, but his parents don't want him to have one. However, he finally manages to buy one, despite the unknown fact that the car was stolen. Kenan then makes an agreement with the police to catch the thief, being the password: "the chipmunk has pneumonia".

First appearance of Kenan, Kel, Kyra, Roger, Sheryl, and Chris.

2
"

The Tainting of the Screw

"
August 26, 1996
102
Kenan chokes on a screw that somehow ended up in his tunafish sandwich, which leads him to file a complaint in court against the tuna company Luna Tuna. However, during the trial, Kel feels too guilty and admits that he accidentally dropped the screw in the Tuna.

This Is Also The First Official Episode.

3
"

Doing Things the Hemingway

"
October 19, 1996
103
After Kenan reads an inspiring novel by

Ernest Hemingway

, it gives him the idea to create some life goals to make his own life feel complete, but it leads to Kenan and Kel being stuck at the top of the Sears Tower.
4
"

Mental Kel-Epathy

"
October 12, 1996
104
When it seems Kel has suddenly developed psychic powers, Kenan plots to use his friend to claim fame, even going as far as going to a live show to demonstrate his "psychic powers".
5
"

Duh Bomb

"
November 16, 1996
105
After being denied entry at a trendy club, Kenan decides to host his own - at Rigbys.
6
"

Mo' Sweater Blues

"
November 2, 1996
106
Kenan takes a girl out on a date, but didn't factor in Kel destroying the sweater her dead grandma made for her.
7
"

Diamonds Are for Roger

"
December 28, 1996
107
The Diamond Bandit is responsible for a string of thefts. He also bares a striking similarity to Kenan's father, Roger, and Kel believes he is the bandit.
8
"

The Cold War

"
November 9, 1996
108
In combating Kel's runny nose, Kenan develops a cure for the Common Cold using stuff like chicken, eggs, sardines, and Orange Soda. Now if only he could remember the recipe.
9
"

In the Line of Kenan

"
December 7, 1996
109
Kenan saves the president from being killed by a crumbling Orange Soda pyramid, but the president mistakes their names for Kiki and Sharona.
10
"

Dial 'O' for Oops

"
November 30, 1996
110
Kenan attempts to ask out a girl, who happens to be the daughter of his father's mean boss, Mr Dawson, but in the process, leaves a scandalous message on their answering machine. Kenan and Kel must go to the house to swap the answering machine tape before the Dawsons come home and listen to it.
11
"Merry Christmas, Kenan"
December 14, 1996
111
Kenan has saved up almost enough money to buy a new bicycle just in time for the Christmas season, but will he really squander his hard-earned money on himself? Or will he find it in his heart to become part of the Christmas spirit?
12
"

Baggin' Saggin Kel

"
January 4, 1997
112
With the 18th annual grocery bagging contest looming, Kenan and Kel's friendship is put on the line when Kel is hired by Angus' Food Barn, a rival grocery store. (the title of this episode is possibly a reference to the old All That skit "Baggin Saggin Barry" which featured Kenan)
13
"

Safe and Sorry

"
January 11, 1997
113
During a spring clean of Rigby's basement, Kenan and Kel find a map to a secret vault... or besides a sofa.
14
"

Twizzles Fizzles

"
November 23, 1996
114
Roger's prize bird is left in the care of Kenan and Kel. But they start to eat ice cream and forget about the bird... ending up in disaster and a house full of bird food.
Season 2: 1997-1998
Episode #
Episode Title
Original airdate
Production Code
15
"

Pair-Rental Guidance

"
September 6, 1997
201
Kenan panics when Principal Dimly calls the household wanting to meet him and his parents, so what does he do? Hire a new set. However, after the meeting, his "mom" invites the principal over for dinner on Saturday night.
16
"Clowning Around"
September 13, 1997
202
A clown robs Rigbys, leaving Kenan and Kel shaken. Meanwhile, Kyra has a strikingly-similar clown at her birthday party.
17
"

The Lottery

"
September 20, 1997
203
It's the big lottery draw and Kel has the $64,000,000-winning ticket. But it ends up in an old lady's groceries.
18
"

Who Loves Orange Soda?

"
September 27, 1997
204
It's life or death when Kel bets Kenan that he can give up Orange Soda for a week. The loser has to sing the National Anthem in front of everyone while wearing woman's underwear.
19
"

Haven't Got Time for the Paint

"
October 4, 1997
205
Kel reveals himself to be quite an accomplished artist, and a wealthy man offers a lot of money for his paintings... or was it another Kimbel?
20
"

A Star is Peeved

"
October 11, 1997
206
Rigby's has been chosen as the set for the new movie Supermarket Cop 3 and Kenan & Kel are offered parts as extras, all they have to do is follow the director's instructions, which shouldn't be too difficult... right?
21
"

Ditch Day Afternoon

"
October 18, 1997
207
Kenan and Kel ditch school and Rigby's, in order to avoid a punishment and some work. However, a bank robbery and camera crews heavily threatens them getting caught.
22
"

Get the Kel Outta Here

"
October 25, 1997
208
After Kel causes Roger one injury too many, he is banned from the Rockmore house. As a result, Kel tries to apologize to Roger who repeatedly rejects him.
23
"

Foul Bull

"
November 1, 1997
209
The

Chicago Bulls

' star basketball player

Ron Harper

slips on some orange soda and gets injured, and all of Chicago is angry with Kenan & Kel, who try to apologize.
24
"

The Crush

"
November 8, 1997
210
Kenan, Kel, and the rest of their English classmates have a substitute teacher named Ms. Horn (played by the episode's director

Kim Fields Freeman

) for the next couple of weeks. However, Kel mistakenly thinks that the teacher is attracted to Kenan.
25
"

Turkey Day

"
November 21, 1997
211
It's

Thanksgiving

and Roger has laid on a fantastic turkey dinner - except Kel felt a bit hungry... Now, Kenan & Kel go on an all-out desperation hunt for a new turkey.
26
"Bye Bye Kenan: Part 1"
December 27, 1997
212
Roger gets a new job as a forest ranger and is required to move to Pummis, Montana, taking the whole family with him.... leaving Kel.
27
"Bye Bye Kenan: Part 2"
January 3, 1998
213
Life in Montana is not exactly sweet - so Kenan sets about sabotaging his father's new job to get him fired by using a bear disguise, but things get complicated when a real Bear shows up.
Season 3: 1998-1999
For most of this and the next season, Kyra Rockmore (portrayed by Vanessa Baden) was not seen in most episodes, including scenes showing the whole family; however, she was seen in the series finale movie. The reasons for her absence are unknown.
Episode #
Episode Title
Original airdate
Production Code
28
"

Skunkator vs. Mothman

"
October 17, 1998
301
Kenan goes to a Comic Book convention with Kel in an attempt to claim the rare Skunkator #6, when he should actually be at work to train Sharla, Rigby's newest employee.

First appearance of Sharla.

29
"

Fenced In

"
October 10, 1998
302
Kenan and Kel land dates with two very attractive girls, whose only concern is that their dates must be on time, but Kenan ends up getting his head stuck in a fence two hours before their date, due to Kel's yo-yo.
30
"

The Raffle

"
October 24, 1998
303
Chris begins setting up a raffle for a new television set, but Kel ends up breaking it. At the same time, Kenan's parents buy a high-quality TV for themselves, so Kenan plots to somehow replace his parents' TV with the one that Kel broke and then rig the raffle so that Kel wins.
31
"

The Chicago Witch Trials

"
October 29, 1998
304
Kenan suspects that the new girl in school is a witch, so he and Kel investigate the truth.
32
"

To Catch a Thief

"
November 7, 1998
305
Kenan's new neighbor Marc Graham seems ok, if not a bit nerdy, which leads Kenan to beleaving he stole his watch.

First appearance of Marc.

33
"

Happy B-Day Marc

"
November 21, 1998
306
After not receiving an invitation to Marc's birthday party, Kenan suspects that he was not invited, or so he thinks. Meanwhile, everyone thinks Kenan got an ear operation.
34
"

I.Q. Can Do Better

"
November 28, 1998
307
When Kenan scores incredibly low on an I.Q. test and Kel scores a high score on the same test, they investigate on the hunch that the scores were a mistake, but when an offensive doodle of the school's principal drawn by Kenan ends up in her office, they have to get it back before it is seen by the wrong eyes.
35
"

Attack of the Bug Men

"
November 28, 1998
308
Despite being warned to leave the front door closed, Kenan doesn't follow his orders and decides to continue playing Penguin Hunt with Kel.
36
"

Surprise, Surprise

"
December 12, 1998
309
Pick up mom's surprise birthday cake & her birthday gift and bring them home safely. Simple of course, unless you're Kenan & Kel.
37
"

You Dirty Rat

"
December 19, 1998
310
A rat turns up in the Rigbys, but Kel insists on saving it instead of having it exterminated, which leads him and Kenan into a mess of trouble to save Wendell, the rat.
38
"

Freezer Burned

"
January 2, 1999
311
Kel accidentally switches a restroom sign at a restaurant, which leaves himself, Kenan, and quite a few others trapped in the freezer.
39
"

Present Tense

"
January 16, 1999
312
In searching the house for his surprise birthday gift, Kenan breaks it. The race is on to replace the gift before his parents find out.
40
"

Housesitter

"
January 23, 1999
313
Chris leaves Kenan and Kel in charge of his home for a few days, however things start to go horribly wrong when they forget about watering the plants... or besides, when they forget about the house. .
41
"

I'm Gonna Get You Kenan

"
January 30, 1999
314
After catching a notorious criminal, Kel accidentally lets slip Kenan's name and address - leaving the criminal swearing vengeance.
42
"

The Limo

"
January 30, 1999
315
Kenan is out to impress a rich girl by convincing her that he's also rich. But Kel knocks out the limousine's driver.
43
"

The Contest

"
February 6, 1999
316
Kenan and Kel set out to win a contest by performing the wackiest stunt ever, but when someone else performs their stunt, they end up owing Chris a bike.
44
"Picture Imperfect"
February 6, 1999
317
Kel destroys the photos for the school yearbook, and Kenan attempts to get every student's picture taken with Bill Bellamy to fix the problem.
45
"

He Got Job

"
February 13, 1999
318
Chris refuses to serve Kel anymore Orange Soda unless Kel begins paying for it, Kel is thus forced to get a job.
46
"

Clothes Encounters

"
February 20, 1999
319
In trying on some new clothes, Kenan manages to get locked out of his changing room in only his shirt and his underwear, and breaking a pair of pants made out of rice.
47
"

We Are the Chimpions

"
February 27, 1999
320
Kenan and Kel adopt Charles (a Chimpanzee) from the zoo, but when they find out that Charles is going to be transferred to another zoo, Kel decides to hide him at the Rockmore house, causing all kinds of monkey chaos.
48
"

Who Loves Who-ooh?

"
April 19, 1999
321
Kenan attempts to ask Sharla out to the sweetheart's ball, but in his fear - boasts that he is taking R+B star

Tamia

- now all he has to do is convince her to go with him.
49
"

Poem Sweet Poem

"
April 24, 1999
322
Phillip (played by fellow All That alumni Josh Server) and Allison were always together until Kenan's poem causes them to break up. Now, it's up to Kenan & Kel to reunite the two lovebirds.
Season 4: 1999-2000
#
Title
Original airdate
Code
50
"

Corporate Kenan

"
August 7, 1999
401
Kenan and Kel mix up their resumes at a corporation and now Kenan is stuck as vice president with no idea of what the company even does.
51
"

The Honeymoon's Over

"
August 8, 1999
402
Kenan wants to get a place of his own in order to get some privacy, and there is a game show on TV that gives couples a chance to win a house. However, the catch is that the couples have to be wedded and Kenan is single. So Kel dresses up as a women with an alias of Kelley, and Kenan and Kel kiss to get on the show.
52
"

Girl-Watchers

"
August 14, 1999
403
Kenan and Kel have to pick up Kenan's cousin Eric's girlfriend Melissa from the airport. But did they get the right Melissa?. This episode was never broadcasted on Nickelodeon UK.

Template:Fact

53
"

Car Trouble

"
August 21, 1999
404
Kenan attempts to get his driver's license against his parents' wishes. However, his science project is due on the same day.
54
"

Three Girls, a Guy, and a Cineplex

"
August 28, 1999
405
Kenan ends up with three dates on the same day with each girl wanting to see a different movie. How will Kenan cope and how will he stop the dates from discovering each other?
55
"

Natural Born Kenan

"
September 11, 1999
406
After hearing that his baby photos were ruined by a flood in the basement, Kenan thinks that he has been adopted so he sets himself on the mission to find his "true" parents.
56
"

The Graduates

"
September 18, 1999
407
Kenan is banned from appearing at the graduation ceremony after attempting to fill Principal Horn's office with chocolate pudding. With all his family coming to the ceremony, can he get in without the principal knowing?
57
"Aw, Here It Goes To Hollywood: Part 1"
September 25, 1999
408
After winning a radio competition, Kel won a trip to the Orange Soda festival. However, after taking the wrong plane, he and Kenan end up in Hollywood.
58
"Aw, Here It Goes To Hollywood: Part 2"
September 25, 1999
409
After finding out the flight time to the Orange Soda festival, the duo decide to explore Hollywood.
59
"Oh, Brother"
October 27, 1999
410
Chris' rich brother comes to Chicago and takes over Chris' life, including Rigby's. Can Kenan's family make the brother leave town so that Chris will stop living with them?
60
"

Futurama

"
December 31, 1999
411
In the year 3000, Kel accidentally makes Roger invisible using a gadget that usually makes garbage vanish.
61
"

The April Fools

"
April 1, 2000
412
It's April 1st and Kenan and Kel set up some pranks on various people. However it all goes very wrong when the jokes get everyone arrested.

Final appearance of Sharla, Marc, and Chris.
At The Conclusion Of the episode "TBD Clip Show", Kenan And Kel make one last appearance to the studio audience. Kel reveals that he has got everything that Kenan has ever wanted. Countless items that Kenan has demanded over the four seasons are displayed.
Series Finale Movie
#
Title
Original airdate
TV Movie
"Two Heads Are Better Than None"
July 15, 2000
The Rockmore's decide to take a trip across the country, but when the family car breaks down in the middle of nowhere, Kenan and Kel go to the nearest town to find help. Little do they know that there they will come face to face with the dreaded Headless Knight, who plans to use their heads for his own!

Final appearance of Kenan, Kel, Kyra, Roger, and Sheryl.