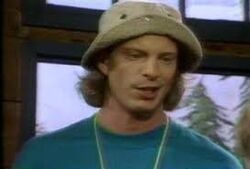 Kirk Baily (born Kirk William Baily on February 2, 1963 in New York City, New York) is an actor who is well known for his role as camp counselor Ug on Salute Your Shorts.
Prior to his acting career, Kirk worked as a drama coach and teacher before moving to Los Angeles, California in 1987 to pursue acting full-time.
During his time on Salute Your Shorts, he was often injured while filming episodes; he once got feathers stuck in this throat and busted his left eardrum (he still has trouble hearing out of his left ear to this day).
Kirk is also an accomplished voice actor, providing additional voice-over work for films such as Hotel Transylvania, The Call, Open Season and Disney's Frozen.
He still remains close friends with most of the Salute Your Shorts cast members & production cast; he was a groomsman in Danny Cooksey's wedding along with Michael Ray Bower.
Community content is available under
CC-BY-SA
unless otherwise noted.